22 Bishopsgate
London, UK
22 Bishopsgate
London, UK
22 Bishopsgate
London, UK
22 Bishopsgate, designed by PLP Architecture for AXA IM – Real Assets and Lipton Rogers Developments, is the tallest tower at the heart of the City of London's financial district. Shaped to respect townscape views, its twenty-three-sided, faceted glass form makes a strong and serene backdrop to the surrounding articulated towers and to the historic fabric of the Bank of England Conservation Area.
The building is designed with the individual's well-being in mind. At 22 Bishopsgate art and craft, higher ceilings, increased daylight control, better fresh air and amenities combine to support individuals, in traditional and new ways of working. Outside of office area, approximately 100,000sf is dedicated to facilities that aim to improve the everyday experience for the building's users and the public.
The building is a Vertical Village, built to support and nurture its population of 12,000 inhabitants. A Bike Park has everything from 1699 spaces, to showers and lockers, to safety classes and bicycle repair. The Market on level 2 offers a variety of fresh food and open kitchens, events and an external terrace. The double-height Exchange on level 7 offers space for qualified start-ups at reduced rents, with co-working, media suites, meeting rooms and facilities for networking and events. The Gym features a double-height glass climbing wall and specialised training features such as a high-altitude room, alongside spaces for on-demand personal and group training classes and a juice bar. The Retreat on level 41 offers relaxation, Pilates and yoga, and health services. On the 57th level, The Club allows occupiers of any size an opportunity to host clients in a small room or at a conference.
Client
AXA Real Estate
Lipton Rogers Developments
Facility
Offices, Social Amenity Spaces and Public Realm
Size
202,000sqm
Status
Completed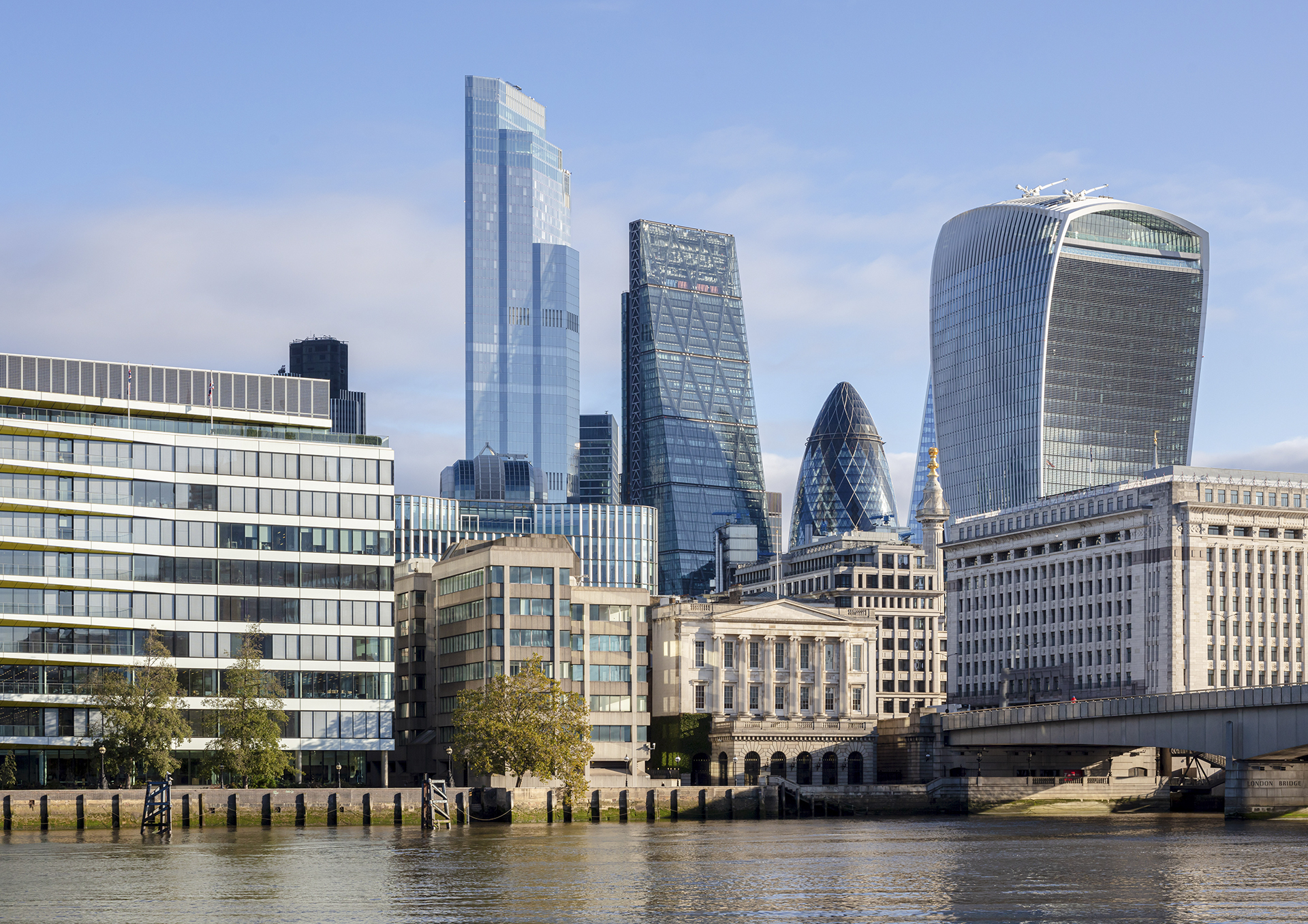 22 Bishopsgate offers a new, positive relationship between itself, the city and the public. At its base, pedestrian access is unlocked through the cluster in the heart of the City, converting it into landscaped public open space. Systems to improve well-being in the public realm have been implemented such as wind mitigation canopies, and a management system that consolidates deliveries to the building and reduces the number of vehicle trips needed, subsequently reducing emissions. At the summit, five levels of restaurants, bars with external terrace, and London's highest and free-to-public access Viewing Gallery, offer new ways to experience the City.
Art and craft have been integrated into the architectural design, carrying on the traditions of centuries old City Guilds, creating an enriching experience for visitors. The entrance hall is a multi-level foyer conceived as an art gallery with curated temporary art exhibits. Permanent installations adorn the building, such as Alexander Beleschenko's glass canopies and Bill Amberg's leather hand-crafted reception 'library'. French furniture artist Pierre Renart has been commissioned to design and make sculptural, figural walnut pieces. Artist Bruce McLean provided bold and colourful art, a unique work for each passenger lift car; London's fastest lifts and Europe's fastest double deck lifts ferry passengers directly to their destination at eight metres per second.
22 Bishopsgate is infused with smart technologies, from the front door to the glass façade and everything in between. Opt-in facial recognition technology removes the hassle for staff entry and QR entry codes sent with visitors' meeting invitations render the reception desk queue redundant. Roving receptionists greet and assist if required. Not only does the glass closed-cavity façade offer huge improvements in daylight transmission, but it also has user-controlled smart blinds, and is a significant factor in the BREEAM 'Excellent' rating to which it is designed.
"22 Bishopsgate has been designed to enhance the quality of life of its occupants by adding amenities which make the work experience more enjoyable and effective."
Sir Stuart Lipton of Lipton Rogers