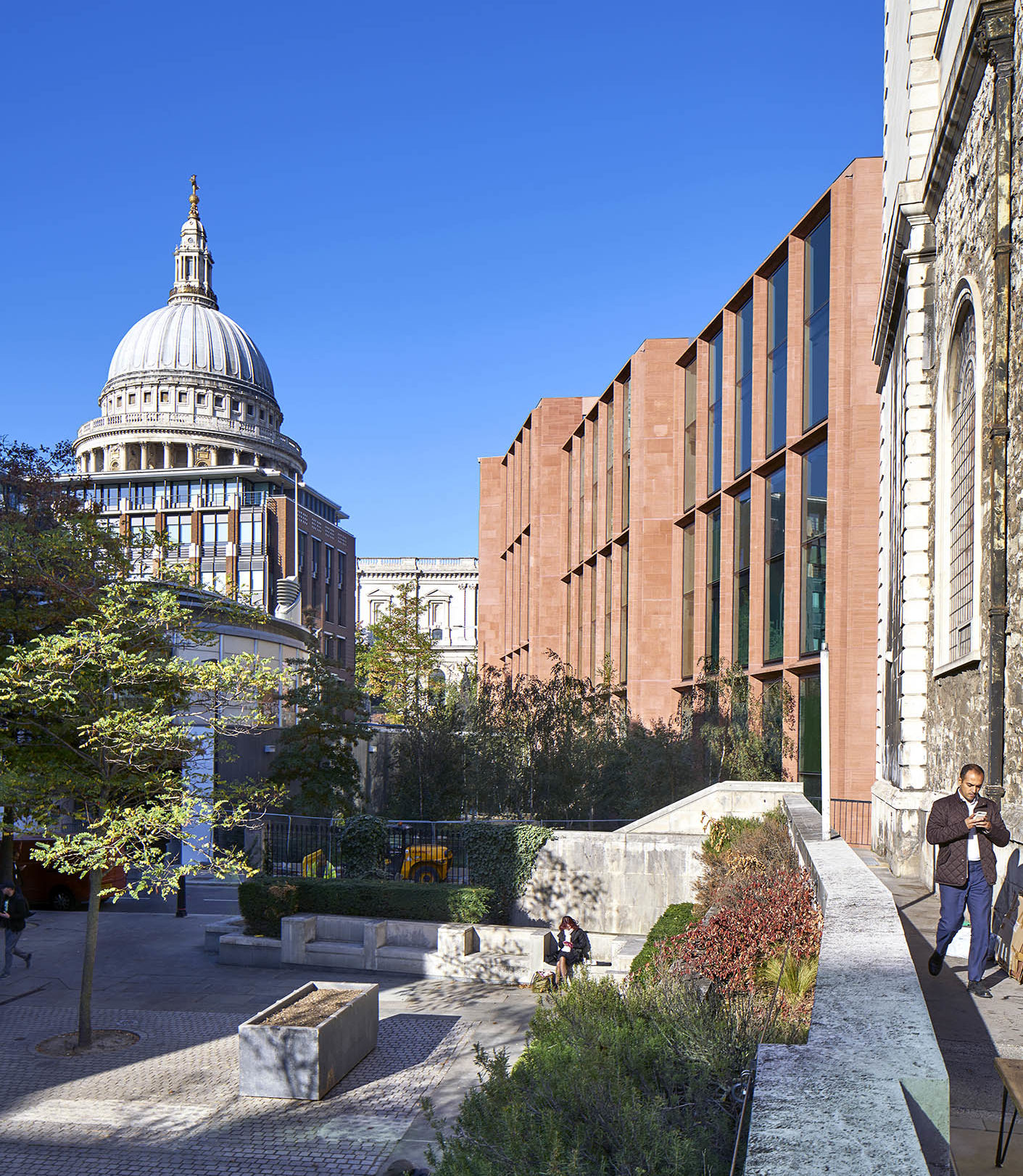 4 Cannon Street wins City of London Building of the Year: Contribution to Context Award
4 Cannon Street has been selected as recipient of the Contribution to Context Award, a special award created for this year's City of London Building of the Year Awards to specifically honour the building. The recognition was given by the Worshipful Company of Chartered Architects and highlights the building's sensitive design, which confidently respects place and context on its site between three listed buildings at the heart of the City.
The judging panel praised the project, saying that it "makes an impressive contribution to its site and to the wider City environment." Created by PLP Architecture for Pembroke on behalf of Fidelity International, 4 Cannon Street includes seven levels of bright, well-defined workspaces with unique views and opportunities for individuality. The sloping nature of the site allows for five office floors above ground level, one office floor at a new garden level on the south side and a lower ground providing plant room spaces, locker rooms, bicycle storage and office accommodation. The judges observed its contribution to the public realm, saying its sunken garden was a "delightful addition to the City patchwork quilt of garden spaces."
"The architectural response has been to deploy materials and colour in a way that complements rather than competes with its significant neighbours, but nevertheless has a distinctive character of its own," noted the judges. The design stitches together four adjacent buildings along Cannon Street that reference each other in form, scale, position and materiality, yet are presented in completely different architectural styles. It takes inspiration from classic Pallazzi to establish a base, middle and recessed top, with a framed minimalist aesthetic drawn from the modernist building it replaced. Middle floors have been paired together to help reduce perceived massing and add visual intrigue to the facades.
4 Cannon Street's stonework has been carefully crafted utilising modern digital carving techniques and features deep, angled profiles that cast changing shadows around the building. Into this has been inserted anodised metalwork and window frames with a tonality that complements the stone ties into the finishes of the neighbouring buildings.
Nick Moldon, Senior Vice President, Head of UK and Germany at Pembroke said: "As city specialists, we bring our global perspective to reimagining future workspaces that make meaningful contributions to city life. 4 Cannon Street is a prime example of our strategy in action where we saw an opportunity to enrich the local area by providing a stunning new public space, bringing new life to Cannon Street and within stone's throw from the iconic St Paul's Cathedral.
"It is an honour to receive such a prestigious award for one of our flagship London office buildings. We would like to thank the team at PLP Architecture for their high-quality design to create 4 Cannon Street as one of the City of London's standout buildings"
"It is an honour to receive such a prestigious award for one of our flagship London office buildings. We would like to thank the team at PLP Architecture for their high-quality design to create 4 Cannon Street as one of the City of London's standout buildings"
Nick Moldon, Senior Vice President, Head of UK and Germany at Pembroke