The Government of the State of Qatar, represented by the New Port Project Steering Committee (NPP SC) has embarked on a major programme to develop a new port approximately 25 kilometers south of Doha.
Following an international tender and design competition, PLP Architecture has provided the thematic design for the Port Buildings as well as architectural and interior services for two iconic signature buildings: the headquarter building for Mwani, the Qatar Port Management Company, situated at the entrance to the port, and the port control tower which forms part of the Port Marine Unit or the main centre for marine control and support services.
The port is a significant aesthetic statement of the ambition of Qatar as the nation aims to create a major gateway to the country and to transform its strategic infrastructure. This port will not only become a world-class maritime hub in terms of transport and logistics that will serve passengers and the expanding trade needs for Qatar, but will also, through its ground-breaking design, help to redefine the characteristics of a modern 21st century port.
Client
New Port Project Steering Committee (NPP SC) on behalf of The Government of the State of Qatar
Facility
New Port and new Signature Buildings: Port Authority Administration Building and Port Control Tower
Size
11,500m² Port Authority Administration Building
3,000m² Port Control Tower
2,000 ha Port Total Area
Status
Thematic Design for Port Masterplan
and Thematic Options for the Port Buildings Complete
Signature Buildings: In Construction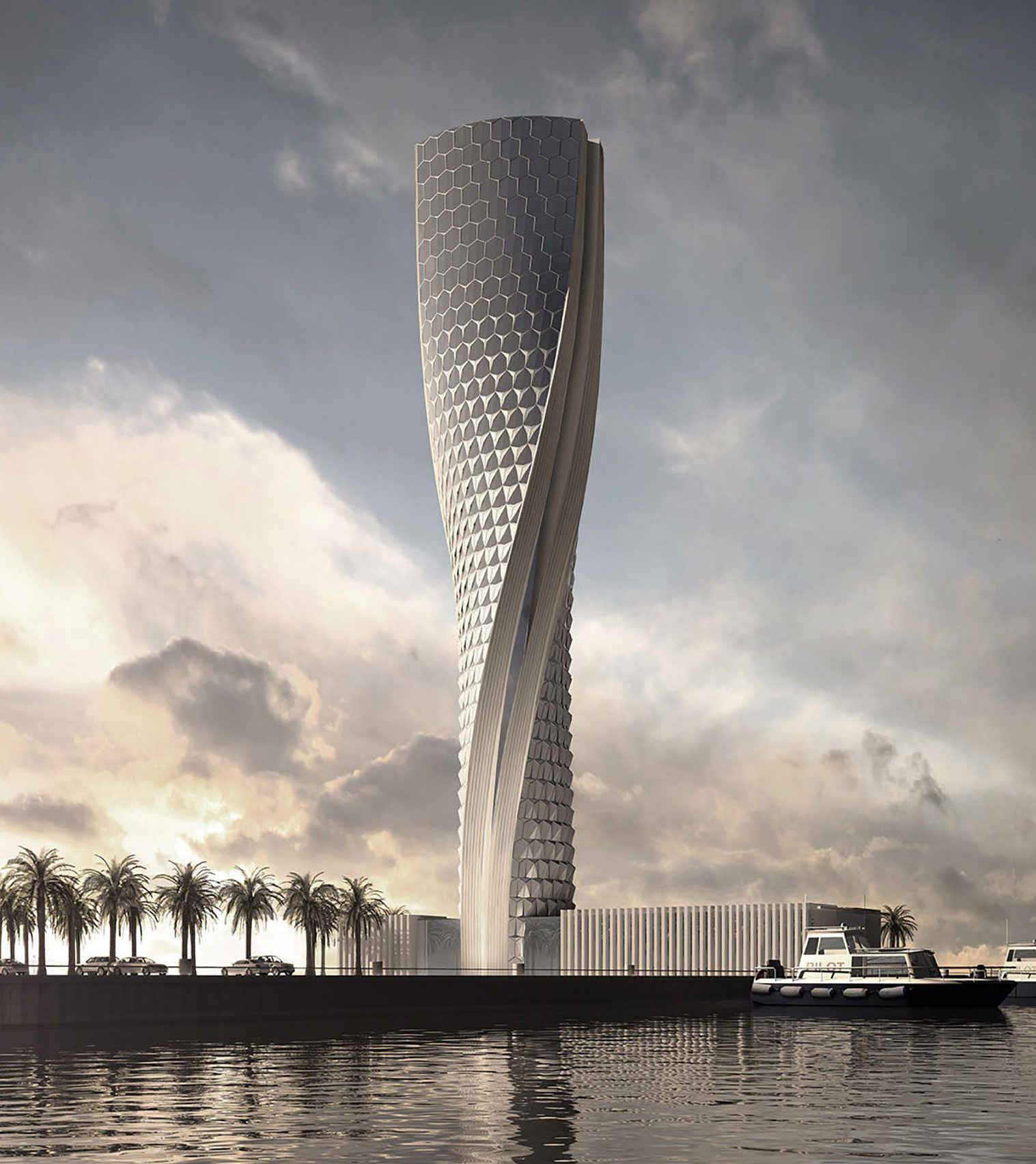 Theming is an imperative consideration in the development of the port, setting the premise for a unified rather than a uniform masterplanning and architectural strategy. Theming will transform the port from an infrastructural project organised along the logic of industrial efficiency and functionality to an environment centred on a compelling liveable experience. The Theme Guide is intended to create an overarching experience for the port, tying together the various elements of the port and their organisational and spatial relationships. The guide brings together the scale of the infrastructure with the scale of inhabitation, helping to create a port that is welcoming and responsive to people as well as for machines and containers.
The two signature buildings contribute to the grand and monumental image that the port seeks to convey. The design heightens the visibility of these buildings and the representational value which embodies the qualities of the port, thereby accomplishing the aims of the thematic strategy.
Each building will engage with the approaches to the port and will become the first encounters with the theme – the Port Authority Administration building will frame the entrance from the land and the Control Tower will mark the arrival from the sea. Their roles, aside from inherent operational and management requirements will be to signal and form a lens through which all subsequent experiences of the Port will be realised.