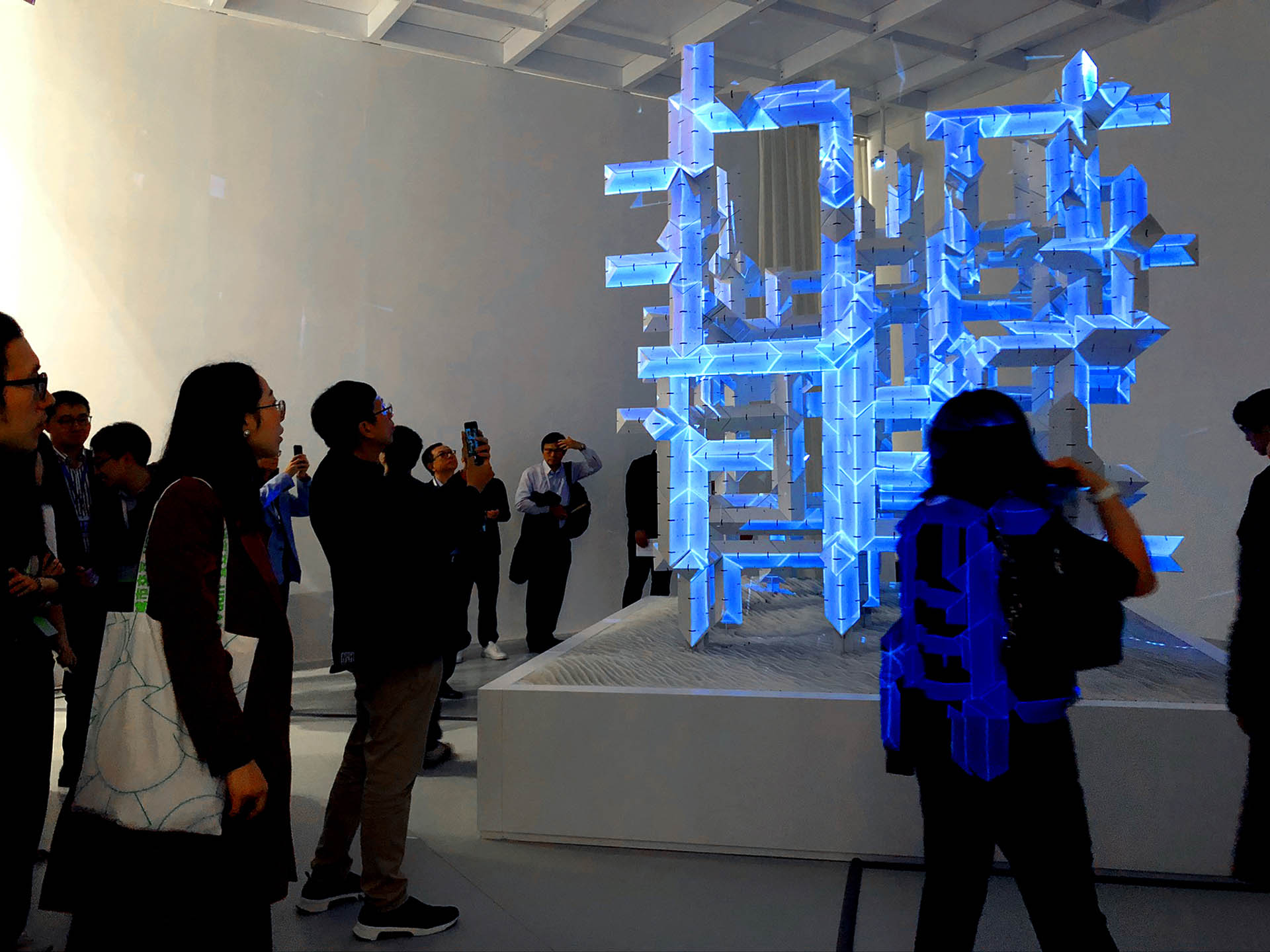 PLP participate at the 2019 Bi-City Biennale of Urbanism\Architecture, Shenzhen
PLP Labs, in collaboration with UCL Design Computation Lab and digital artist Yiyun Kang, was invited to participate at the 8th edition of the Bi-City Biennale of Architecture and Urbanism held at the Shenzhen Museum of Contemporary Art and Planning in Shenzhen.
Curated by Carlo Ratti, Meng Jianmin and Fabio Cavallucci, with executive curator Manuela Lietti, the Biennale, titled "Urban Interactions", looks at the evolving relationship between urban space and new, innovative technologies.
PLP's installation, "Shenzhen – The Three-Dimensional City: Connected Aggregates in the Age of Robotic Urbanism", is a speculation on a possible future city underpinned by IUMO – a multi-dimensional urban mobility protocol developed by PLP Labs.
In the near future, robots, powered by cities that are increasingly aware and intelligent, will solve mobility in increasingly automated ways. Lifts, trains, cars will be replaced with integrated transport protocols that can free movement from a two-dimensional topology, rendering cars, trains and lifts obsolete.
What will our cities look like when freed from these legacy transport technologies? What impact will this have on the way we negotiate and experience the city, the form of our buildings, the organisation of public realm or the way we conceive real estate?
PLP Labs attempts to answer these questions through a speculative look at a future version of Shenzhen where new mobility protocols will enable three-dimensional freedoms: buildings will no longer project vertically from the ground but connect in aggregates forming networks, bundles and other assemblages. Linking them together, are vehicles that can move on, under and above ground, climbing onto these new constructs to create a truly three-dimensional city.
Our contribution to the Biennale includes a large-scale physical model of this new urban possibility. Overlaid on this model, a series of digital projections will simulate the infrastructural substrate of the construct, patterns of movement, programmatic use, geographic and social data as well as offering an insight into the inner life of the buildings and urban spaces
The Biennale launched on December 21, 2019, and is running until March 31, 2020.