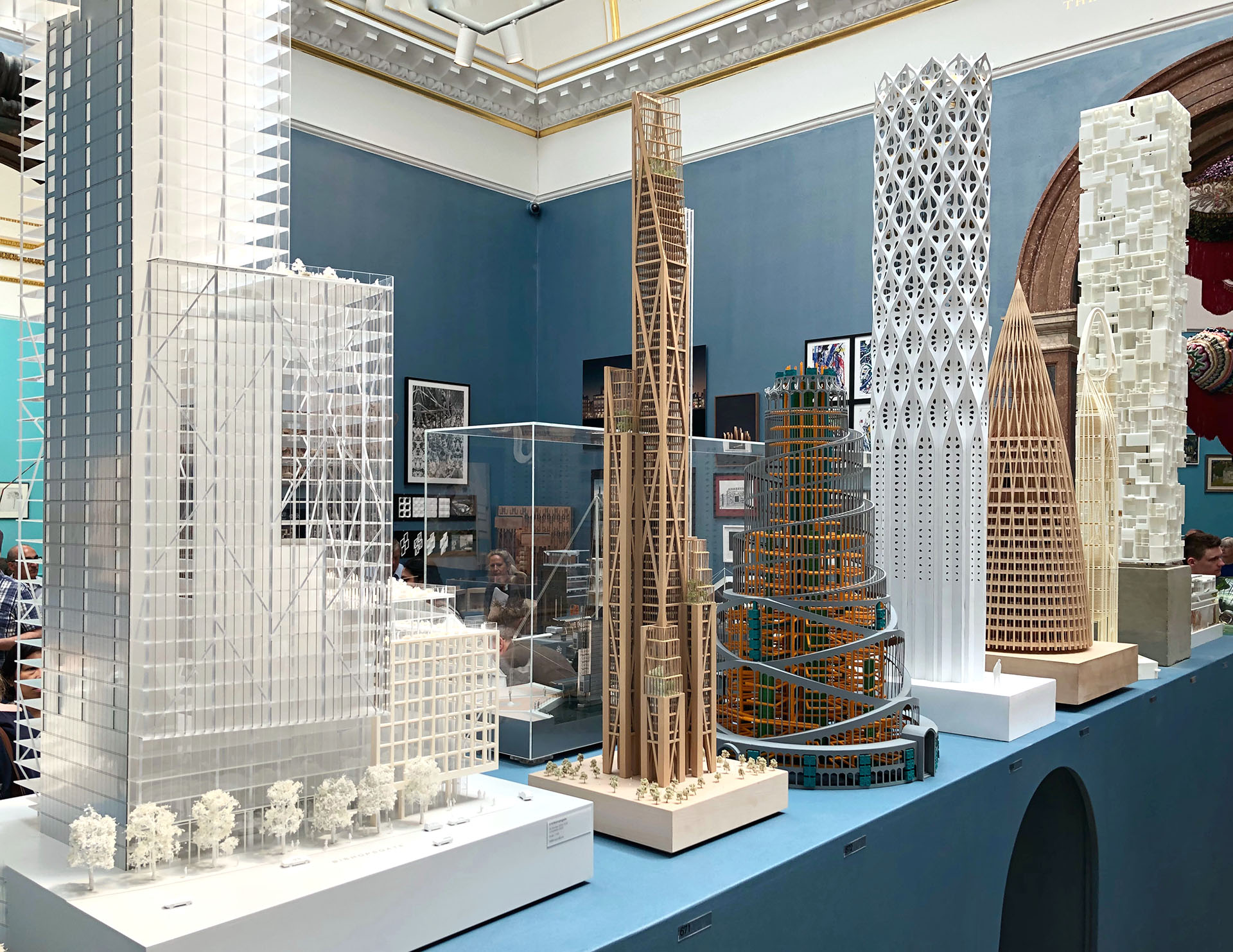 Royal Academy Summer Exhibition 2018
The summer exhibition at the RA is always a favourite event in the London cultural calendar. This year, PLP Architecture was fortunate enough to have two project models selected for the architecture room: Oakwood Tower, and Tour888/IUMO/v. Both projects are the result of our own research, conducted by PLPLabs. Oakwood Tower is the first in a series of collaborations with Cambridge University to interrogate the potential of tall buildings constructed from wood. The IUMO/v project is an exploration of a new system of circulation that takes elevators out of central cores and positions them on the exterior of buildings. We are interested in how this logistical move might influence the future form of new urban structures.
Curated by Piers Gough, the newly configured architecture room at the RA forms a key and connected centrepiece for the entire exhibition. It offers a refreshed visual approach that balances pieces from both established and emerging practices. A central spine of tall buildings, which includes PLP's two entries, divides the room into two main sections and playfully features a fun, accessible portal in its middle through which visitors can pass. In addition, the physical bounds of the space have been blurred thanks to intentional placement of more architectural pieces of art in the adjacent rooms.
At PLP, we have a large and dedicated team of modelmakers led by Neil Merryweather. We advocate the role of the model in the design process by bringing together craftsmanship with artistic vision, intelligence of approach and a continued exploration of new materials and techniques. Our modelmaking team uses processes including etching, lazer cutting, 3D printing and rapid prototyping to create an extraordinary array of representational models.