Two Kingdom Street
London, UK
Two Kingdom Street
London, UK
Two Kingdom Street
London, UK
Two Kingdom Street is part of Paddington Central, a mixed use scheme developed on the site of the old goods yards to the northwest of Paddington Station. The building is set between the busy elevated Westway and, to the south, the quieter environment of Kingdom Street, the landscaped spine of the development.
A sequence of public spaces through the building links these two distinct environments. The main entrance, at the southeast corner, is oriented towards Sheldon Square, the first phase of the development, and the line of pedestrian passage from Paddington Station. Here, a double height lobby opens diagonally to a full height atrium at the north west corner. This space, which brings light into the middle of the building, is animated by scenic lifts and a large reflecting pool.
The compact building form is enclosed by different varieties of a dense curtain wall which articulate the elevations. The lobby and atrium glazing is contrasted with that of the offices. Daylighting to the office spaces is maximised with full height glazing panels shaded by projecting mullions. A finely detailed screen of structural glass fins maximizes the transparency of the multi-level spaces.
A project of
Kohn Pedersen Fox (International) PA
in which the following people at PLP Architecture were involved: David Leventhal was partner-in-charge; Cindy Lau, Bernard Storch, designers; Richard Woolsgrove, head visualizer; Harjit Sembi, model maker; Ted Neilan, senior graphic designer.
Client
Development Securities
Facility
Mixed-use: Offices, Light Industrial, Retail
Size
35,000sqm
Status
Completed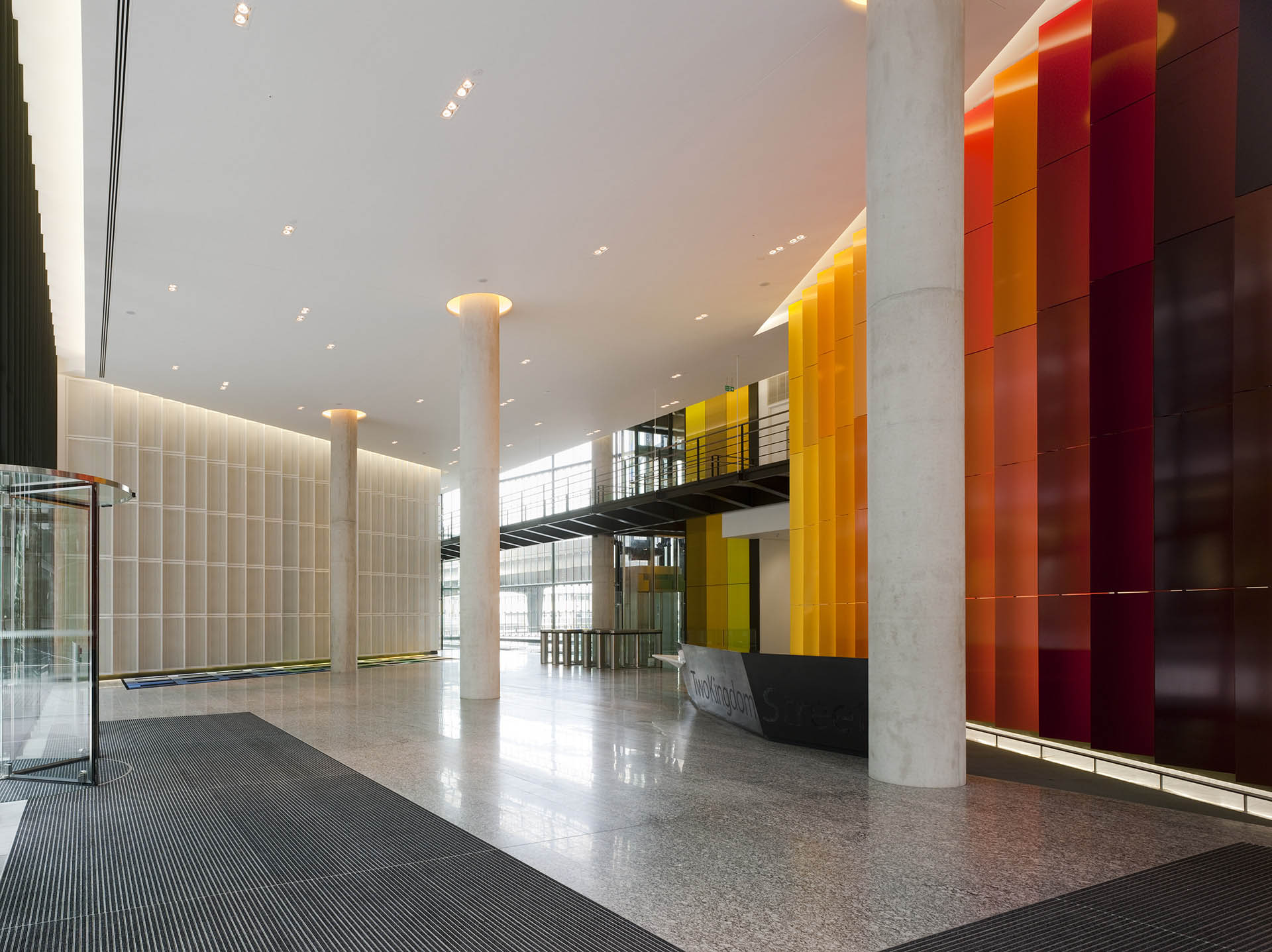 The office floorplates are open and generous with a grand 80 x 21m rectangular space to the south. A smaller northern wing with dramatic views to the atrium and the Westway provides a natural setting for meeting and conference areas.
The building's energy efficient strategy, along with the facade design which limits unwanted solar gain, results in 25% less energy use than levels mandated by current regulations.