Corso Como Place
Porta Nuova, Milan, Italy
Corso Como Place
Porta Nuova, Milan, Italy
Corso Como Place
Porta Nuova, Milan, Italy
PLP Architecture was commissioned to refurbish the former Unilever Tower in Milan as a contemporary office space. The tower, built in 1962, had been a modernist landmark in the international style, although a recent misplaced attempt at recladding the facade had completely changed its character, rendering it unremarkable and undervalued. The existing block and surrounding buildings had become run-down, in stark contrast to the surrounding buildings of Corso Como.  When complete, the building will serve as Accenture's national headquarters. A new all-timber pavilion adjacent to the tower will house the headquarters for the technology company Bending Spoon.
Milan is a city with a distinctive formal urban grain of different scales. Large plazas and boulevards break down into narrow roads that often open out into sumptuous courtyards where hidden uses are revealed through exploration. The arrival to these courtyards is often delayed by meandering journeys through doorways, undercrofts, steps and passages. Similarly, we have created a layered approach that gradually reveals the building's forecourt. Enhanced and expanded, this new public realm becomes a neighbourhood resource drawing pedestrians from nearby streets into a stepped landscaped piazza.
To the east of the piazza, a new four-storey pavilion marks the entrance to the development. The building, an architectural extension of the garden in which it sits, has a timber structure and is clad with semi-automatic timber shutters that optimise lighting and energy consumption.
Client
COIMA
Facility
Office
Size
Tower – 16,000m²
Pavilion – 4,500m²
Status
In Construction
www.coima.com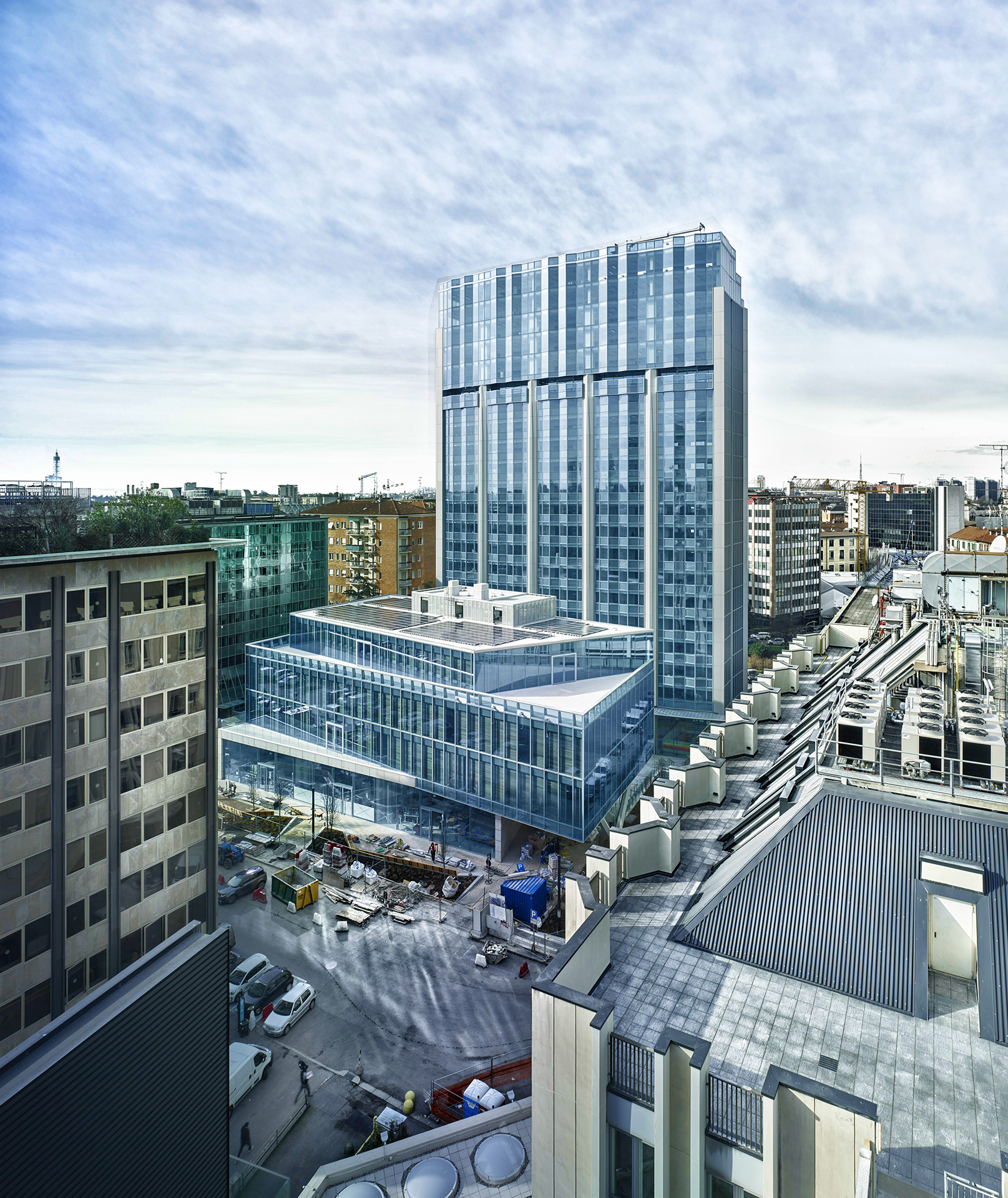 Our proposal for the tower strips the existing building back to the concrete structure, to allow it once again, to draw vitality from the vertical expression of its columns. The two existing concrete flank walls provide solid bookends to the north and south.
The structural strategy of the original building thus becomes the identity for the tower. A new faceted curtain wall on the east and west increases the levels of light into the interior and acts as a solar power collector. The glazed facets borrow and reflect the ambient light throughout the course of the day, revealing an ever-changing kaleidoscopic image of the city beyond.