This ten-storey residential scheme in the Strand Conservation Area in Westminster will replace a vacant 1960s concrete office building on an island site surrounded by important institutional buildings including the Royal Courts of Justice, The Royal College of Surgeons of England and the London School of Economics and Political Science. The scheme includes 230 apartments including studios, one-, two- and three-bed apartments, two penthouses, amenities for residents, and a landscaped courtyard providing communal amenity and an attractive outlook from the apartments.
The design, inspired by the historical context, recalls the proportions of neighbouring townhouses and celebrates and reinterprets the masonry and fenestration of the listed institutional buildings.  A principal six-storey elevation or 'street wall' reinstates the relationship with the streetscape and provides visual continuity for the four façades, each responsive to the form, scale, texture, detail and colour of surrounding buildings. The stone façade is rhythmically divided into a series of window bays, punched windows and vertical stone fins. Metal spandrel panels that weave horizontally across the façade unify the bays. A five-storey high serrated façade on the west elevation provides visual continuity to an orthogonal arrangement of apartments, incorporating private outdoor terraces on the second and seventh levels.
A series of recessed landscaped terraces or 'pavilions' reduce the building's perceived scale from street-level as well as local townscape views. Dark recessed metal panels, which set apart the uppermost penthouses on the east elevation, continue the rhythm of the façade design yet form a sympathetic response to the surrounding roofscape when viewed from the green open space of New Square.
Client
Lodha Group
Facility
Residential, Private Spa and Fitness Centre, Communal Amenity Space and Landscaped Courtyard
Size
27,625sqm GEA
Status
Completed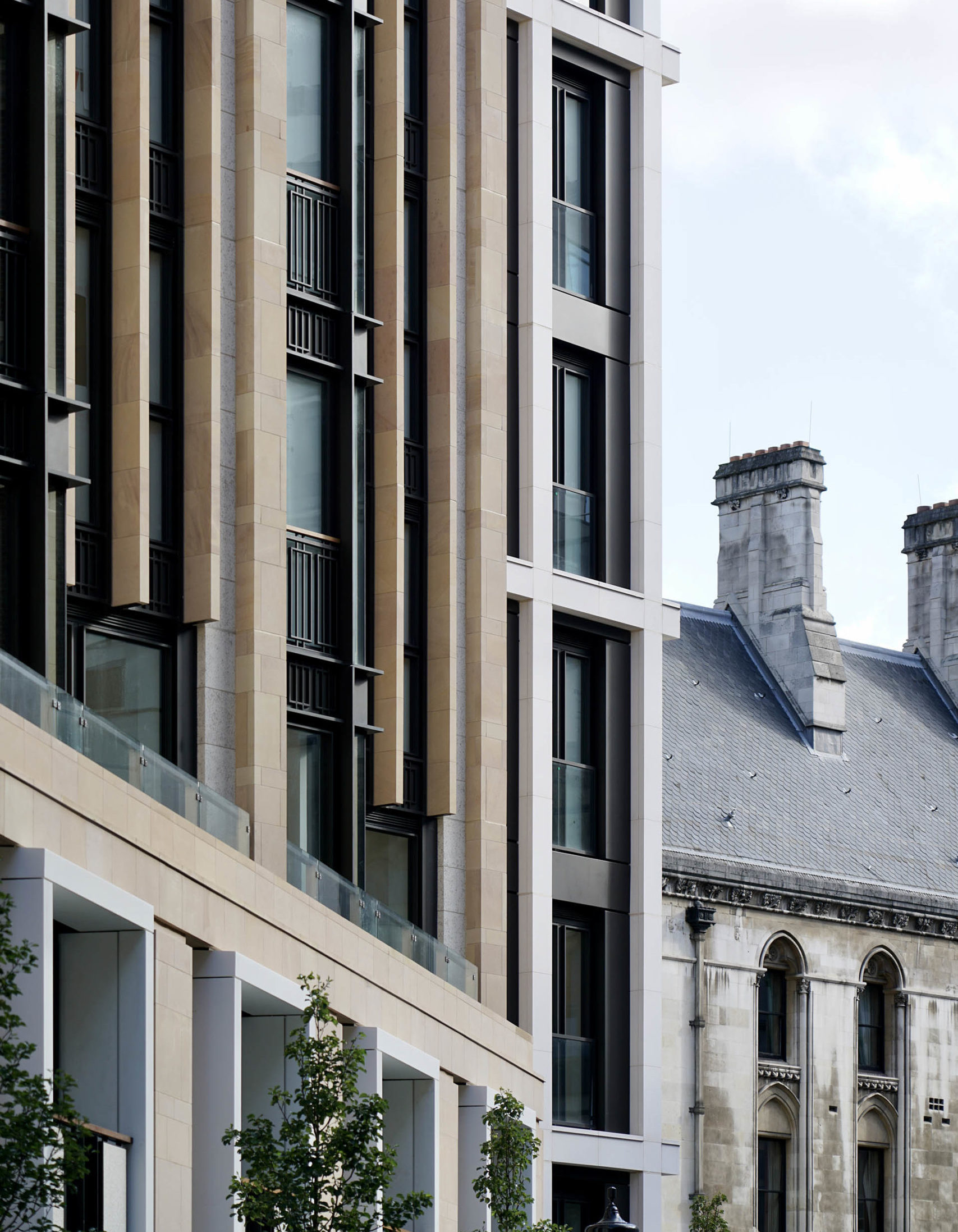 "The design of the residential apartments is sensitive to the scale of neighbouring institutional buildings and townhouses, and incorporates materials that are sympathetic to the historic context; each façade realising a subtle and coherent relationship with the surroundings."
Lee Polisano, President, PLP Architecture