The Collective Old Oak
London, UK
The Collective Old Oak
London, UK
The Collective Old Oak
London, UK
The shortage of housing is an acute and pervasive problem in the contemporary city and young people are perhaps the most affected. Faced with housing that is either exorbitantly expensive or hopelessly inadequate, they are increasingly pushed out of urban centres, isolated and marginalised.
To address this condition, we have been working with the start-up Collective to develop a strategy for new and affordable ways of living predicated on high-density, communality and shared experience. Collective Old Oak, in West London is the first of this model to be built and is currently the world's largest co-living building.
Our approach for the building has been to laminate social and residential spaces within a hybrid typology where complementary uses and collaborative spaces supplement a compacted arrangement of private living quarters. Working, living, creating, exchanging, socializing and entertaining, all occur within a formal arrangement that operates more as a vertical neighbourhood rather than an individual building.
Client
The Collective
Facility
Co-living building with 550 Micro-units, Communal Facilities including Kitchens, Spa, Gym, Restaurant, Games Room, Cinema, Library and Disco Launderette, and a Co-working Incubator Hub
Size
16,000sqm
Executive Architect
Whittam Cox Architects
(former WCEC group)
Status
Completed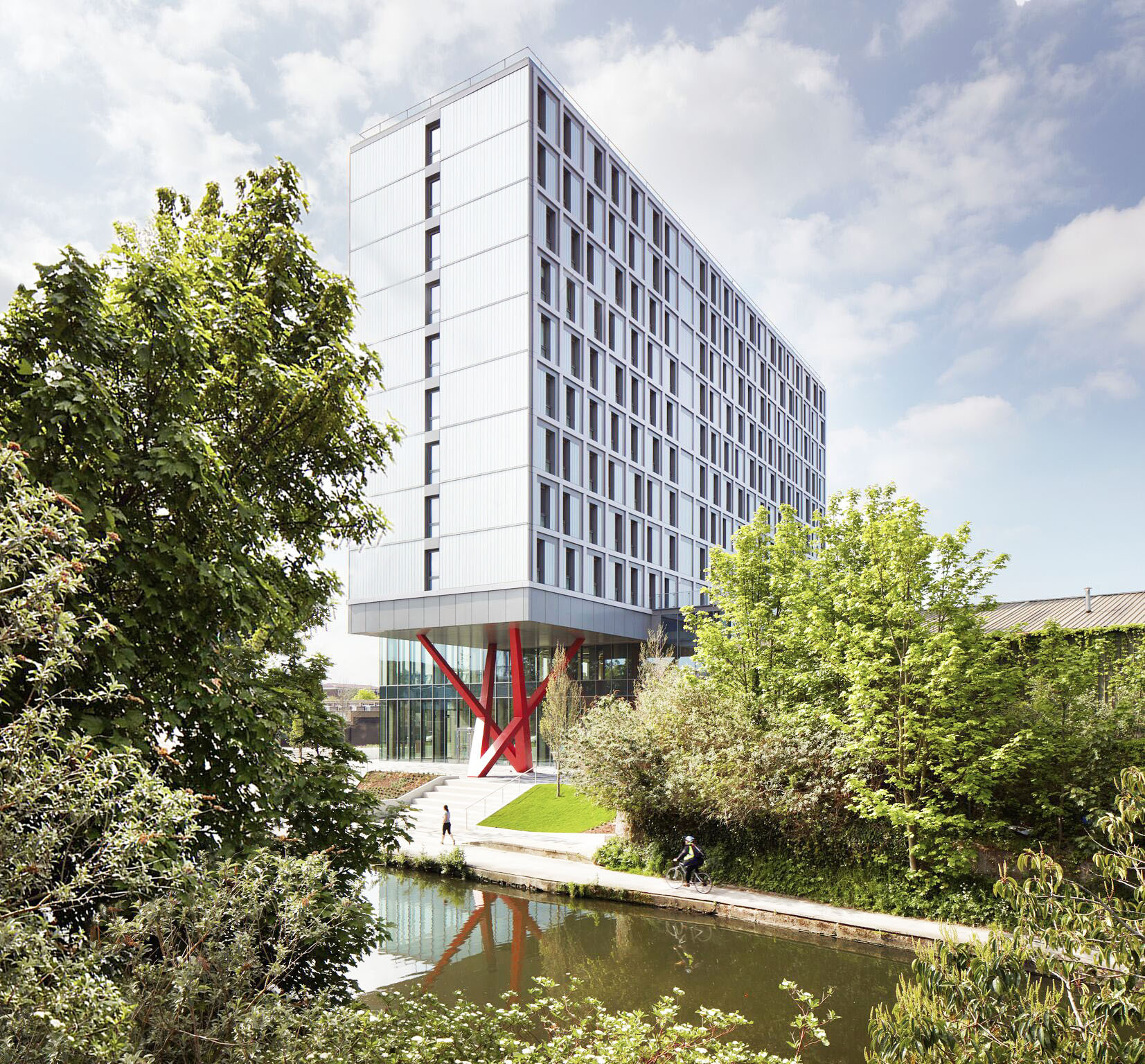 At a micro scale, the building is conceived to safeguard privacy and individual space but also to allow small intimate clusters of people to spontaneously form around shared spaces, communal kitchens and dining rooms. These clusters, predicated on people feeling comfortable in each other's presence, are key to community forming.
At a large scale, the building attempts to fold within itself the effects, moods and atmospheres of the city to enable unexpected and sometimes counterintuitive encounters between its inhabitants.  The Collective maximises shared community spaces through a design that elicits socialization. The nature of these social spaces, their layout and distribution throughout the building, is perhaps the most important consideration of the project. The residential component of the building is also accompanied by a co-working space: an incubator for young start-ups which adds its own energy to the communality and creative possibilities of the building.
Operating simultaneously at both small and large scales of organization, the project establishes pockets of extreme privacy and intimacy through a deliberate erasure of the effects of the building's density whilst simultaneously allowing for a liberating sense of metropolitan anonymity that removes the sense of institutional oversight from the day to day experience of the building's inhabitants.
The building takes the form of two slim volumes sliding across one another. Where the two volumes overlap, a central hub amplifies opportunities for interaction between residents. The hub is home to a series of unique amenity spaces, each designed to appeal to the needs and interests of young professionals: a games room, spa, secret garden, cinema, library and launderette, many of which are directly connected to adjacent communal kitchens. All residents have access to these shared spaces, as supplementary to private space which includes a compact bedroom, bathroom and kitchenette.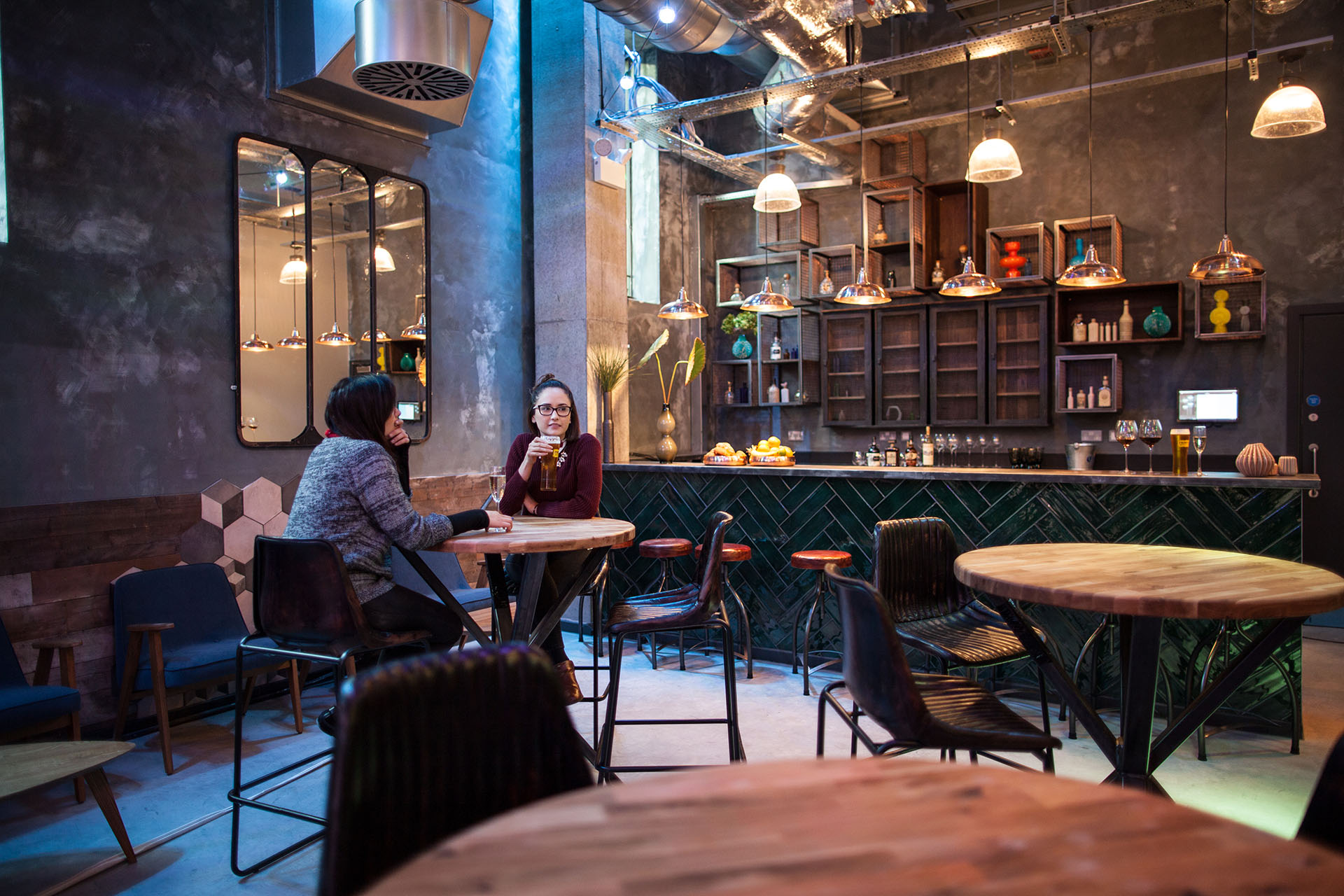 The two connected volumes sit on a large podium which contains a co-working floor with shared desk space, as well as a communal gym, restaurant, meeting spaces, an entrance lobby and a shop at ground floor. The floor to floor height within the podium is purposely over-scaled to allow for multiple scenarios of post-occupancy refurbishment and reconfiguration of the interior spaces.  Above the podium, two large roof terraces provide landscape gardens, cultivating allotments as well as spaces for events.
In a gesture of deference to the public space and collective activity, the building's upper stories, which contain the private living quarters, are lifted above a public plaza facing onto the adjoining Grand Union canal by a branching structural column in fire engine red.
The provision of housing is in crisis, not just in London but around the world. Can high density housing be reconceptualized to adequately respond? We envisage a change in the way urbanites occupy the city and anticipate this form of communal living to expand to include a wide range of new formal arrangements. Funded through commercial, social or co-operative methods, we hope that these emerging housing strategies will continue to disrupt existing models, typologies and social norms.