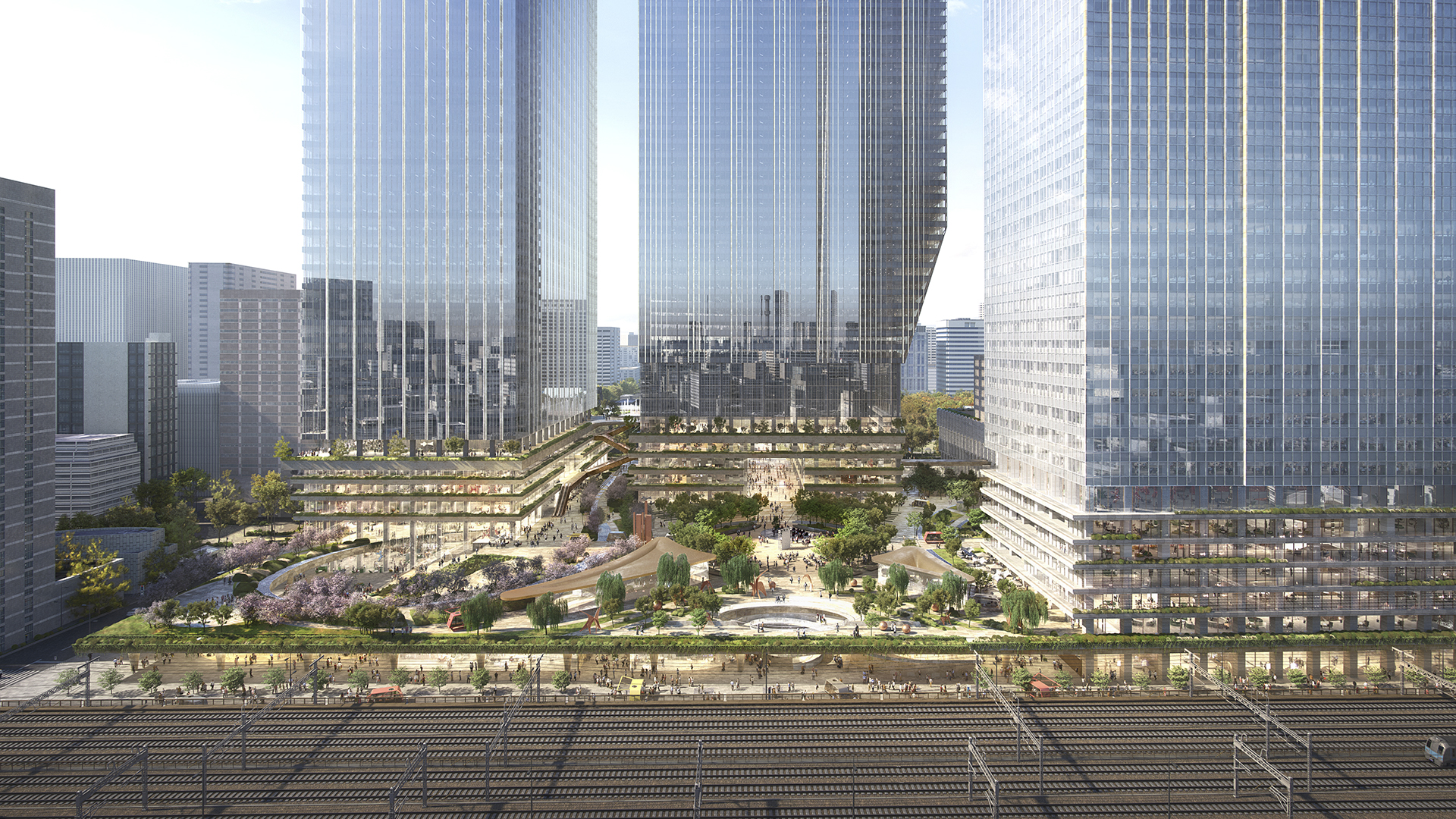 Plans unveiled for the 'Tokyo Cross Park Vision'
Ten of Japan's largest companies have together unveiled their plan for a new district redevelopment in Tokyo, for which PLP Architecture are the master designer and placemaking strategist, as well as the architect for two of the four mixed-use towers on the 6.5-hectare site. The development sits in the prestigious and culturally significant Uchisaiwaicho 1-Chome district of Tokyo, which connects to the 16-hectare Hibiya Park and looks across to the Imperial Palace. The 1.1 million square metre development is the largest development in the metropolitan area of Tokyo.
PLP guided the multi-disciplinary group in co-creating a new vision for urban development in Tokyo. Each partner brought their experience in leading urban topics, such as ICT and telecoms from the Nippon Telegraph and Telephone Corporation, urban development from Mitsui Fudosan, energy from Tokyo Electric Holdings, and hospitality from the Imperial Hotel. PLP's masterplan provides a platform within the city that will facilitate collaboration between these different disciplines to develop future ideas.
In the Tokyo Cross Park Vision, key parts of the city and culture cross over, uniting to create a range of new urban experiences. This centres around the key three concepts of uniting natural life and urban life, uniting Tokyo's top talent, and uniting Japan's top ten companies.
Read more about the project here
Stakeholders
– Nippon Telegraph and Telephone Urban Solutions Inc.
– Kokyo Tatemono Co., Ltd.
– The Dai-ichi Life Insurance Company Ltd.
– Chuo-Nittochi Co.
– Imperial Hotel Ltd.
– Tokyo Century Corporation
– TEPCO Power Grid Inc
– Nippon Telegraph and Telephone Corporation
– Nippon Telegraph and Telephone East Corporation
– Mitsui Fudosan Co.