AEROCITY DELHI GATEWAY
DELHI, INDIA
AEROCITY DELHI GATEWAY
DELHI, INDIA
AEROCITY DELHI GATEWAY
DELHI, INDIA
Dubbed 'The 9th City of Delhi', AeroCity is set to become India's first sustainable Transit Oriented Development with over 30 million square feet of mixed-use commercial development and a working population of over 100,000. Capitalising on its proximity to the Delhi International Airport, AeroCity will cover over 230 hectares creating an active commercial hub representing the largest planned development in India's capital since Edwin Lutyens and Herbert Baker planned New Delhi in the early 20th century. Perhaps more importantly, AeroCity is planned with a civic vision and a commitment to the public realm that characterise successful mixed-use developments globally.
PLP Architecture were engaged to design an office-led mixed-use development at AeroCity's Gateway District, setting the standard for the next generation of smart and sustainable office buildings at AeroCity. We were inspired by the masterplan vision aiming to break away from the model of inward-facing developments and introduce an active and permeable public realm, creating an exciting new environment for office users and the general public. Our challenge was reconciling a high-density development with a generous provision of open public space that is adequate for Delhi's climate.
Our masterplan envisioned a series of connected courtyards enclosed by office blocks with active frontages at ground level. The proportions of the courtyards were studied to provide shading to the public realm, creating a pleasant environment at grade. The buildings were organised to create a north-south axis that becomes an active pedestrian hub away from the busy surrounding roads. We utilised a variety of floorplate sizes and typologies for maximum flexibility, our aim to create a diverse working environment that attracts multiple uses and enhances the resilience of the development.
Client
GMR
Facility
Offices, retail, public courtyards, 5 levels of underground parking and bicycle parking
Size
182.000sqm
Status
In Construction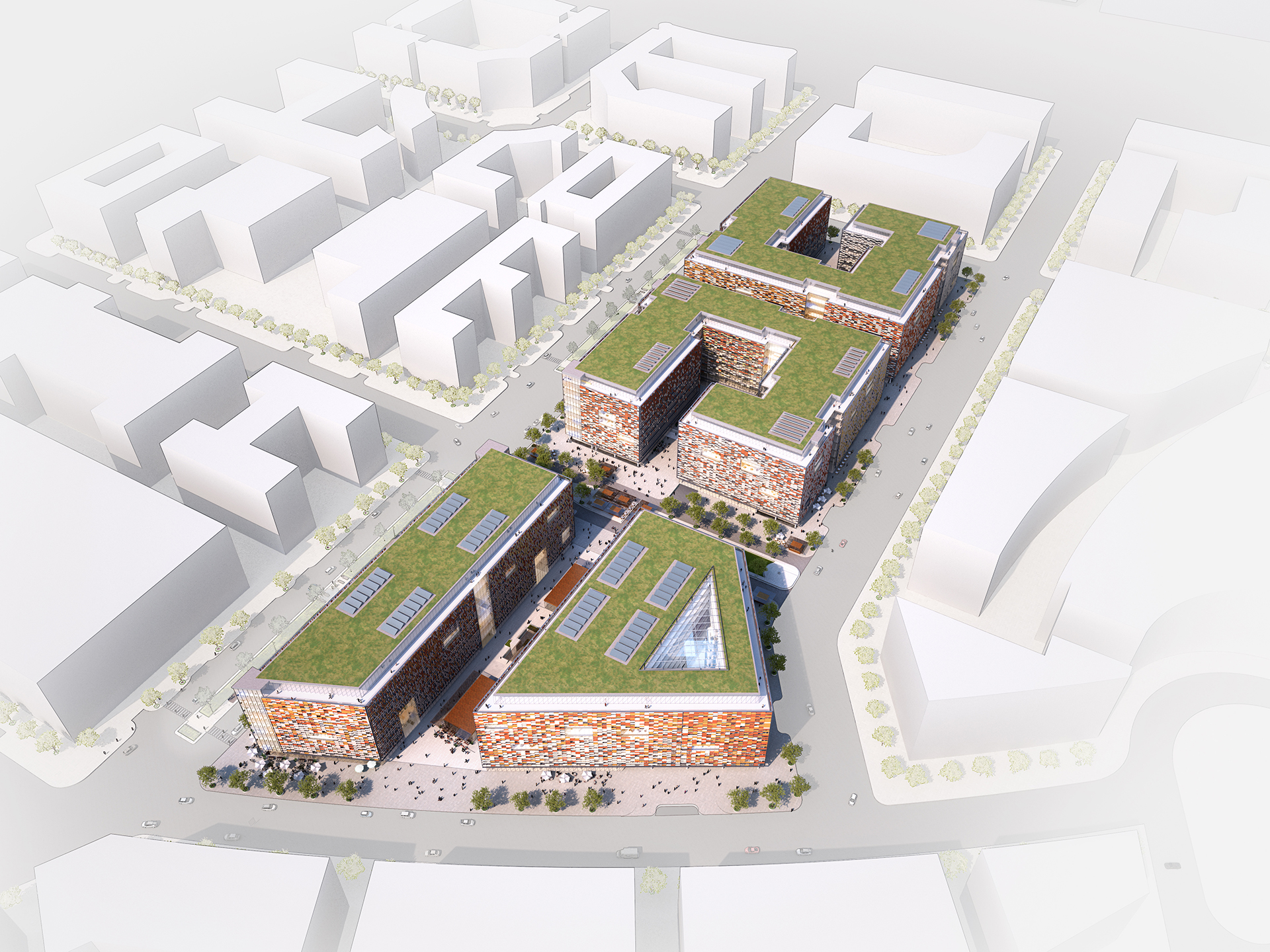 Architecturally we sought to create buildings with excellent environmental performance that create an urban whole while retaining the identity of each building. We utilised a material that has been in use in India for centuries: terracotta. The envelope is shaded with external terracotta screens helping reduce solar impacts significantly while maintaining high levels of daylight on the inside. The rich earthy tones of the terracotta echo the hues of traditional monuments in Delhi in a novel way. We utilised a variety of colours that were mixed in different combination to create a distinctive image for each block. This was accentuated with large openings in the terracotta screens defining key interior spaces, and revealing key landmark corners.
The design is enhanced with sustainability, smart building technology, amenity and wellbeing strategies creating a distinctive experience for office users. Natural ventilation is encouraged in common areas and greenery is used extensively both inside and outside the buildings, solar power and water harvesting and storage are utilised through the roofs, and interactivity is encouraged through a dedicated smartphone app that enables interface with the buildings. A generous allowance of accommodation stairs with natural daylight ensure that staff can walk up and down the buildings.
Overall, the design brings a new forms of urbanism and innovative office architecture to the area through distinctive architecture and public realm, enhancing the quality of life and ecology of the local area.