cohl business center
hangzhou, china
cohl business center
hangzhou, china
cohl business center
hangzhou, china
Designed as an undulating piece of sculpture on the water's edge, the COHL Business Centre overlooks the Qiangtang River, the main artery of the city of Hangzhou.
The river is a busy conduit for ships bringing goods and people into the port which serves the wider Zheijang Province.
The formal arrangement of the project is of two towers, which rise from active triple height podiums set within a landscaped block. The ground floor accommodates the public life of the development, with cafés, restaurants and shops alongside the reception areas for the Business Centre, spilling out into the public realm.
Our approach has been to bring a conceptual aesthetic to the form of the towers. The bright shipping containers that pass by every day reminded us of stacked minimalist sculptures: such as those by Louise Nevelson, Donald Judd or Carl Andre. We have emulated this by variating the window reveal depths of each bay across three different planes. Each plane is presented in three corresponding tones of glazing, ranging from clear, to light blue, to a deeper blue. The glass was carefully selected to achieve a variety of colours from the outside, but a continuity and evenness when looking out from inside. The positional patterns of these stacked glass boxes are irregular, but with an underlying diagonal movement along the façade. Where the towers face each other the patterns interlock – as if the towers were once nested together but have been pulled apart.
Client
China Overseas Land and Investment Ltd
Facility
Riverfront Office and Retail Complex
Size
109,000sqm
Status
Completed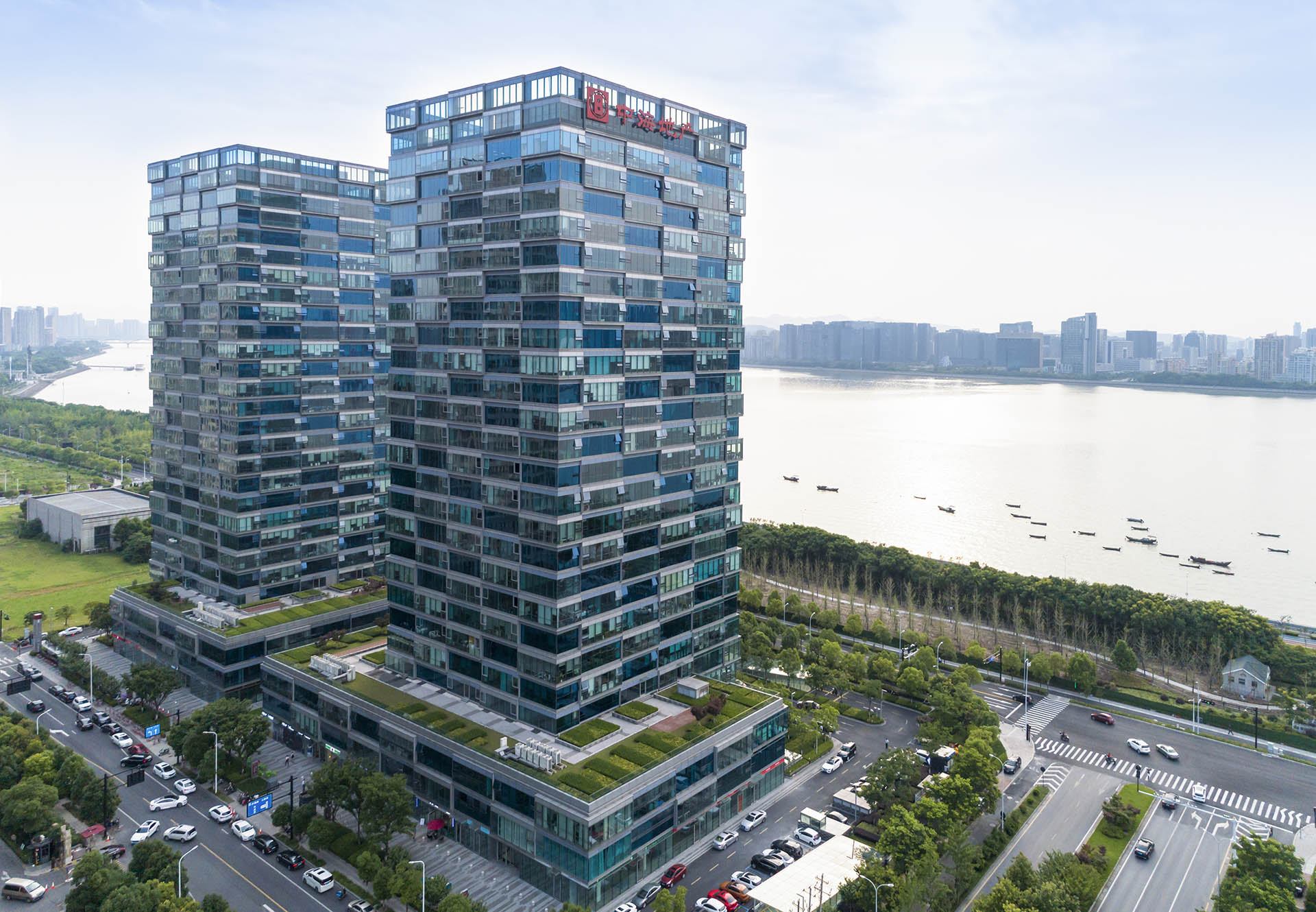 At the top of the towers the façade continues, becoming a transparent screen to provide safe shelter for rooftop terraces. More planted terraces fill the roof of the podium, offering breakout spaces for outdoor events from meeting rooms, and relaxing gardens for staff. The pattern of the stepped glass blocks continues a long the base of the podium, creating an overall visual unity with the towers. Although, at the ground floor the glass is clear throughout, giving transparency to the internal active uses and lobbies. The landscape strategy, inspired by the ecological canal culture of historic Hangzhou, is heavily planted with geometric hedgerows and trees interspersed with stepped changes in levels and public art. A range of seating allows for both small gatherings, and intimate moments.
The overall effect is of a building that feels both modern, and ancient. Like a simple stack of maneuvered glass stones rising from a forest. The dynamic pattern of depth and colour in the façade references both the commercial necessity of the river for imports and exports, in the form of shipping containers, but also the natural swells of dancing water caused by the tidal bore of the Qiangtang River.