Imperial College Prince's Gardens Masterplan
London, UK
Imperial College Prince's Gardens Masterplan
London, UK
Imperial College Prince's Gardens Masterplan
London, UK
Imperial College, one of Britain's premier research and teaching institutions, established its main campus in South Kensington, west London in 1907. Their new strategic target of accommodating their students within walking distance of their main teaching facilities necessitated additional student accommodation of superior quality to their existing student housing which was sub-standard, unattractive to potential students and a detraction from the standards of academic excellence for which Imperial is known.
The school's two buildings on Princes Gardens, built in the 1950's and 60's were in poor repair, not fully accessible, environmentally unsustainable, and disproportionately expensive to maintain. Imperial aimed to attract the best and the brightest, yet these buildings discouraged potential students. The college had abandoned a scheme to repair the buildings, as the level of upgrade would not warrant the large investment. Furthermore, the listed status of one of these buildings presented additional difficulty.
In townscape terms the buildings were distinctly out of scale with the urban fabric of Prince's Gardens in the Knightsbridge Conservation area.
Our design solution healed this important public space by restoring the original building line, reinstating the garden to its original conception and controlling vehicular access. To the east, public terraces now activate the square and establish the garden as a focal point for student life.
A project of
Kohn Pedersen Fox (International) PA
in which the following people at PLP Architecture were involved: David Leventhal was partner-in-charge;  Bernard Storch, Renos Charitou, designers; Harjit Sembi, model maker; Ted Neilan, senior graphic designer.
Client
Imperial College
Facility
Student Halls of Residence and Study and Medical/Dental Centres
Size
14,567sqm
Status
Completed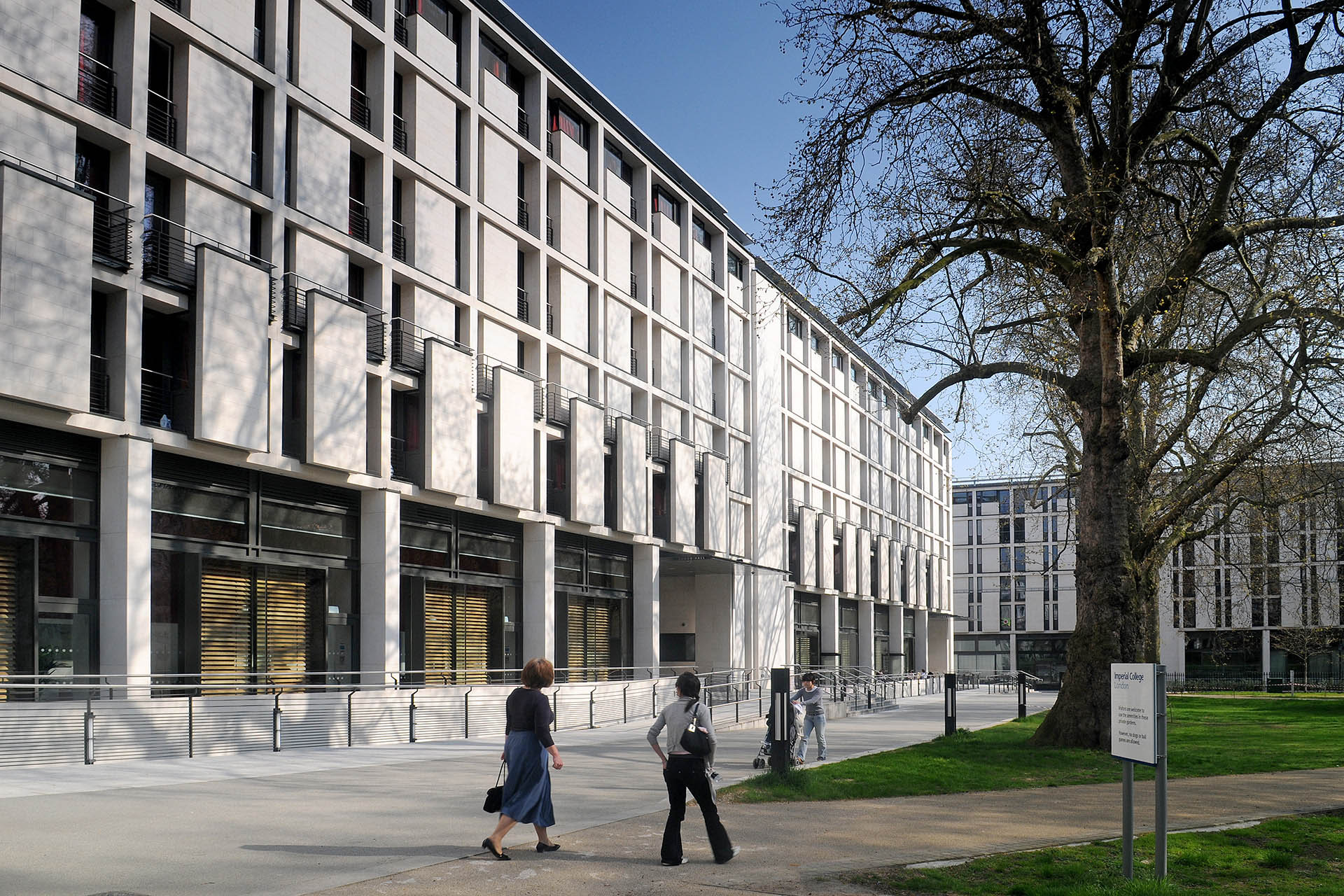 The townscape benefits of our scheme convinced English Heritage and the City of Westminster to support the scheme. The project is one of the most important restorations of an historic London Square since World War II.
Through careful internal design, our scheme provided more rooms of a higher standard than the larger building which it replaced. Approximately 900 students are housed, all in en-suite facilities. Other amenities are provided at ground floor level: a medical centre, a dental centre, local grocery and a bar/restaurant.
Extensively planted green roofs increase insulation and the thermal mass of the building. The majority of the external envelope, internal walls, floors and bathrooms was prefabricated, reducing the environmental impact of the construction and enabling the team to adhere to a tight programme. The immovable deadline of the start of the academic year was met and the final phase was successfully delivered three weeks ahead of programme.