N+ Masterplan
Ningbo, China
N+ Masterplan
Ningbo, China
N+ Masterplan
Ningbo, China
Ningbo has existed as a trade city on the Silk Road for over two thousand years and has been associated with textiles ever since. The city is now China's largest clothing manufacturing base and is the origin of the country's modern garment industry. Operating in this context, the project responds to a structural shift in the Chinese economy as it transitions from the manufacturing of goods to the production of content.
Situated Ningbo's Eastern New Town, N+ is the first Fashion City in the world specifically designed to work as a centre for the fashion industry and creative fields in general. Our aim is to create a new urban genre that works as a creative catalyst and to conceive a city, a relatively permanent construct, for fashion, a quintessentially ephemeral pursuit.
Our main organizational strategy is based on the idea of intensifying spontaneous encounters by laminating a multiplicity of programs, colours, character and atmospheres within a continuously changing urban experience. The public realm is articulated as a civic and theatrical stage in which concomitant narratives can occur. In this suggestive dimension, every occupant becomes a protagonist and every space turns into a potential scenario, capable of encouraging social interaction, the exchange of ideas, experimentation and, consequently, the construction of a communal identity based on creativity and diversity.
Client
Thee Fashion Hub
Facility
Offices, Hotel, School, Exhibition Centre
Size
505,000sqm
Status
Masterplan Completed
2012 Mipim Architectural Review Future Project Big urban projects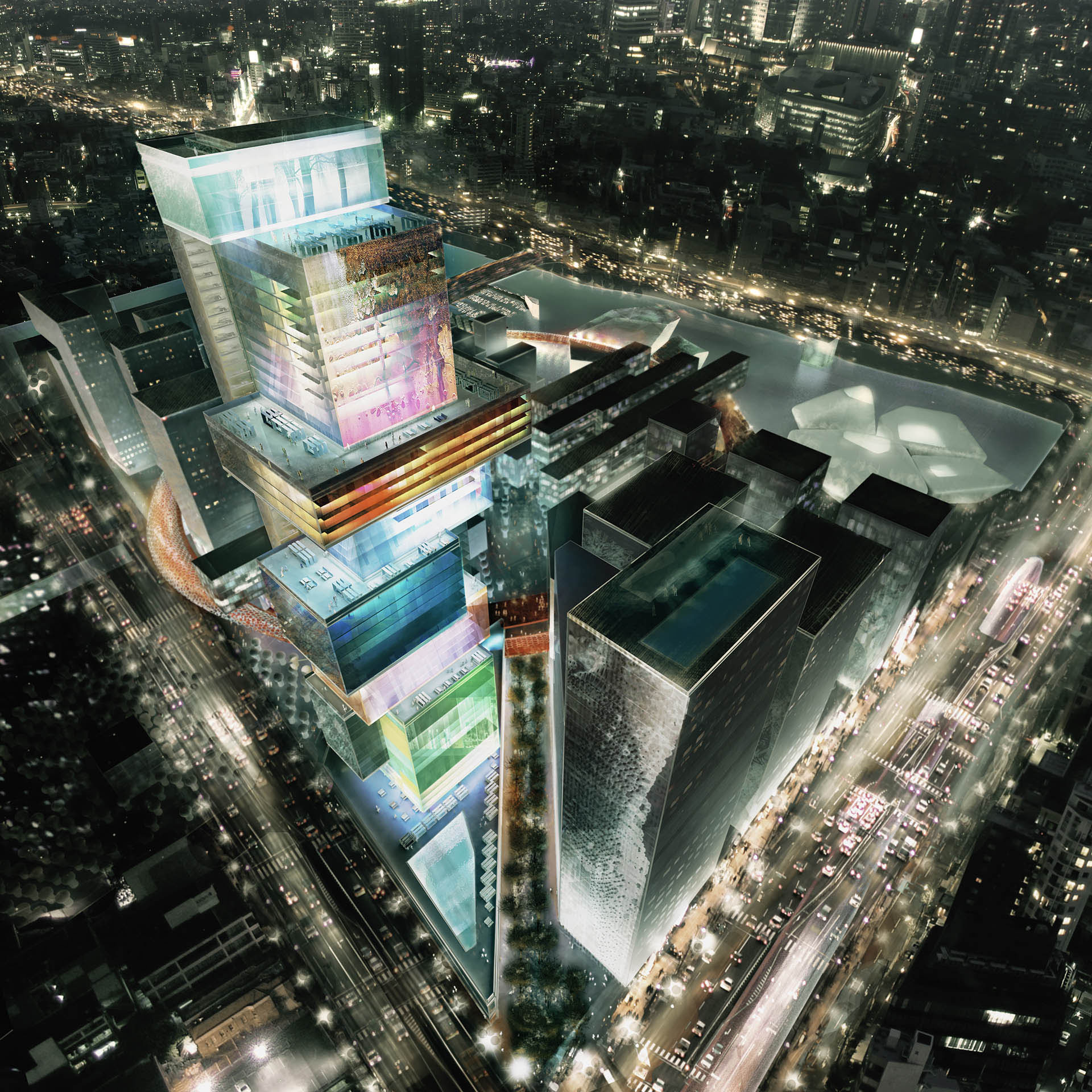 The main programmatic elements are organized within districts arranged to orchestrate excess – of porosity, adjacency, access, layering and difference. Each district contains a public space and one or several significant buildings that, in turn, shape multiple experiences. A design school is located in the middle of the site. It sits within an urban forest – the realm of the fantastic – linking the neighbouring central park to the river. The waterfront is transformed into a cultural district with theatres and museums. To the south, a labyrinthine neighborhood – a contemporary reinterpretation of a hutong – mixes boutique hotels, designer concept stores, fashion villas suspended above a porous, active ground floor.
Floating above street level, a ring-shaped, continuous catwalk connects all the districts. It is a performative space, distanced from the quotidian reality of the city below. On the Catwalk, one is simultaneously an actor and a spectator; both an inhabitant and a protagonist in the life of the city, facilitating a different interaction with it. In the absence of the car, it establishes a new urban typology: a suspended agora.
Fused together, this programmatic multiplicity becomes a space of experimentation, where design interacts with research; the theatre is a playground, where market forces link buyers, brands, and shoppers in an augmented culture of urban density.