Four Seasons Hotel Abu Dhabi
Abu Dhabi, UAE
Four Seasons Abu Dhabi
Abu Dhabi, UAE
Four Seasons Abu Dhabi
Abu Dhabi, UAE
Al Maryah Island, is a man-made enclave between Al Reem Island, Abu Dhabi Island and Mina Zayed. Its central position enables the island to become a link between the city and the Louvre Abu Dhabi on Saadiyat Island. Central to this urban ligament stands the Four Seasons which, together with the adjacent Abu Dhabi stock exchange, establishes a pedestrian epicenter of metropolitan energy along the waterfront.
When so many cities in the Gulf are defined by accumulations of mirror-glass point towers, objects in an undifferentiated field, an anti-urban setting designed for cars and hostile to pedestrians, can the public realm be reclaimed through an architecture that enables the possibility of human-scaled spaces, shaded gardens and lush landscapes.
The formal logic of the building is shaped by the ground plane, where three distinct axes of movement enable the hotel, residential, and conference users to share and activate the public realm. Here, a network of carefully scaled gardens, each with its own distinct identity, guides visitors into the various components of the building. Stepping down towards the water, two floors of retail create a double-height external shaded colonnade fronting a waterside walk.
Client
Mubadala
Facility
Four Seasons Hotel and Residences
Size
99,000sqm
Status
Completed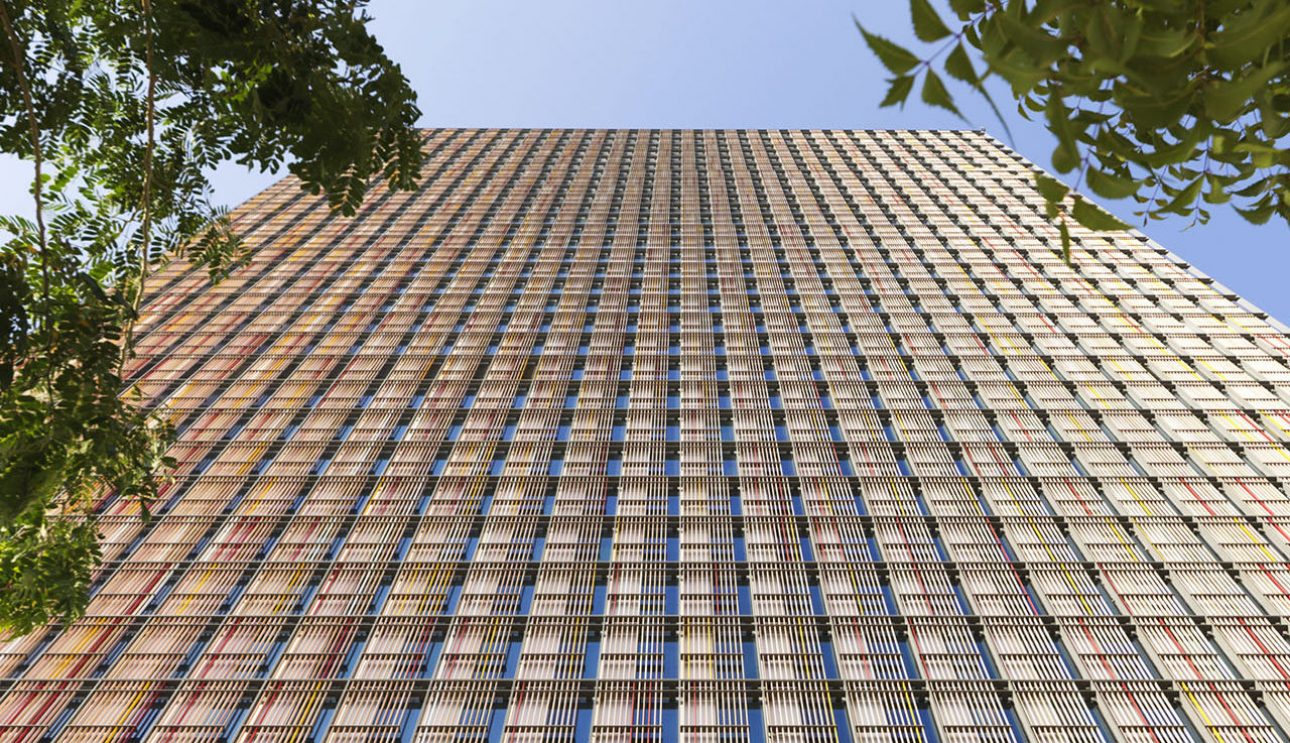 Above the podium, a 34-storey tower is defined by two adjacent wings which are skewed around a central core. The façade stands in contradistinction to the relentless mirror glass veneer so prevalent on the Abu Dhabi skyline. Here a layered sequence of screens gives depth, shadow and texture to the facades. Vertical terracotta baguettes on the outer layer introduce a polychromy of buff, pink and sand tones – in distant views a specular refence to the desert sunset, while up-close, a vivid three-dimensional screen.
The juxtaposition of the slim articulated tower and the low angular podium creates a dynamic interplay of vertical and horizontal elements. Both share the palette of finely-scaled terracotta rods: in the tower, these are arranged vertically, in the podium they run horizontally. The screen of terracotta filters the light to the interior, softening the contrast between the harsh bright sun outside and the shaded interior spaces.
The first encounter with the building occurs through a sequence of gardens and interconnected public spaces. Each has its own character, with distinct spatial and material qualities calibrated to produce a sensorial buffer between the building and the city. The lobby, an extension of these gardens, is the hotel's living room. Shops, galleries, bars, and cafes combine to add vitality and a sense of urbanity.  Since its opening in 2016, the Four Seasons Hotel has become renowned for its afternoon tea served in its gardens – a ritual now embedded in the life of the city.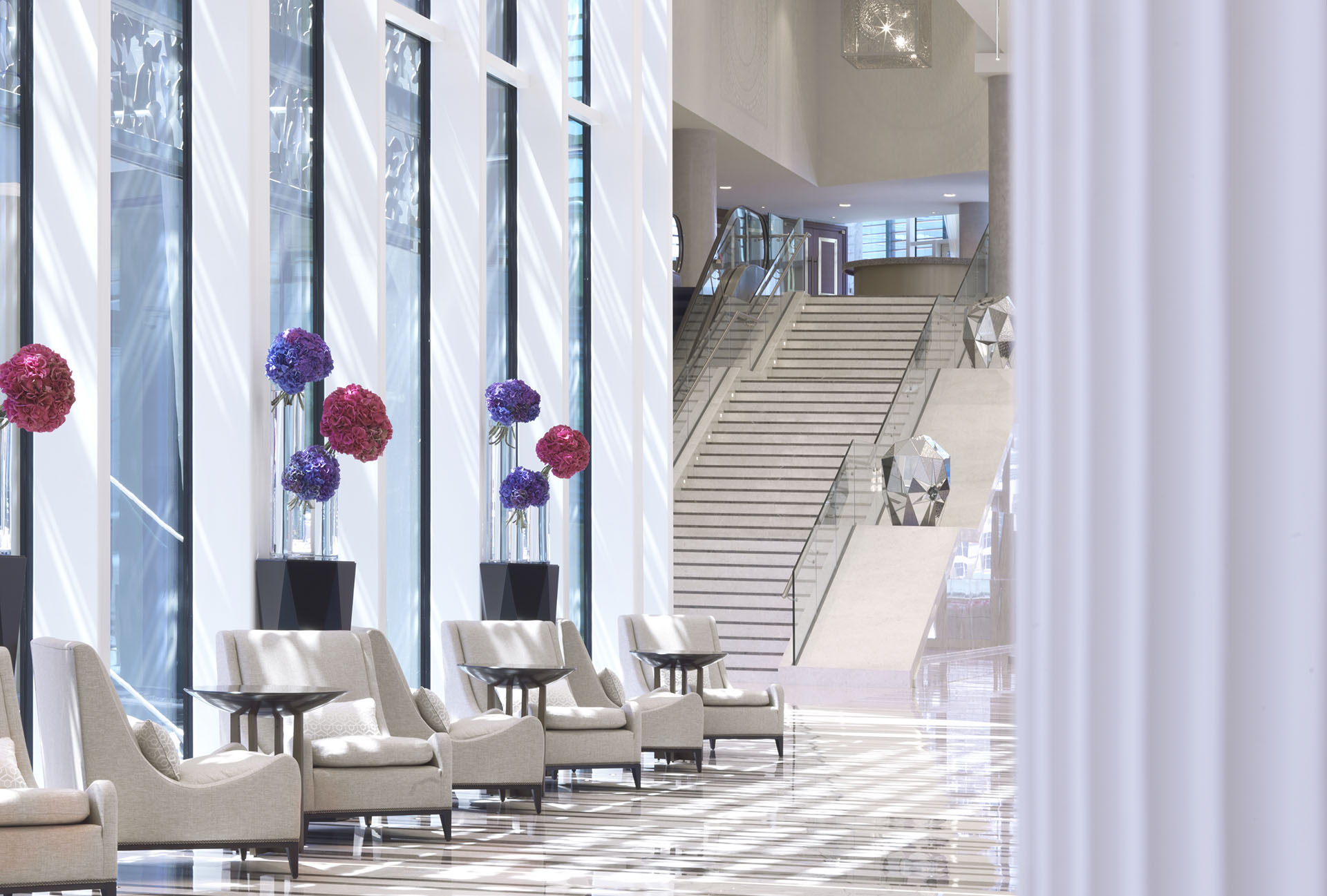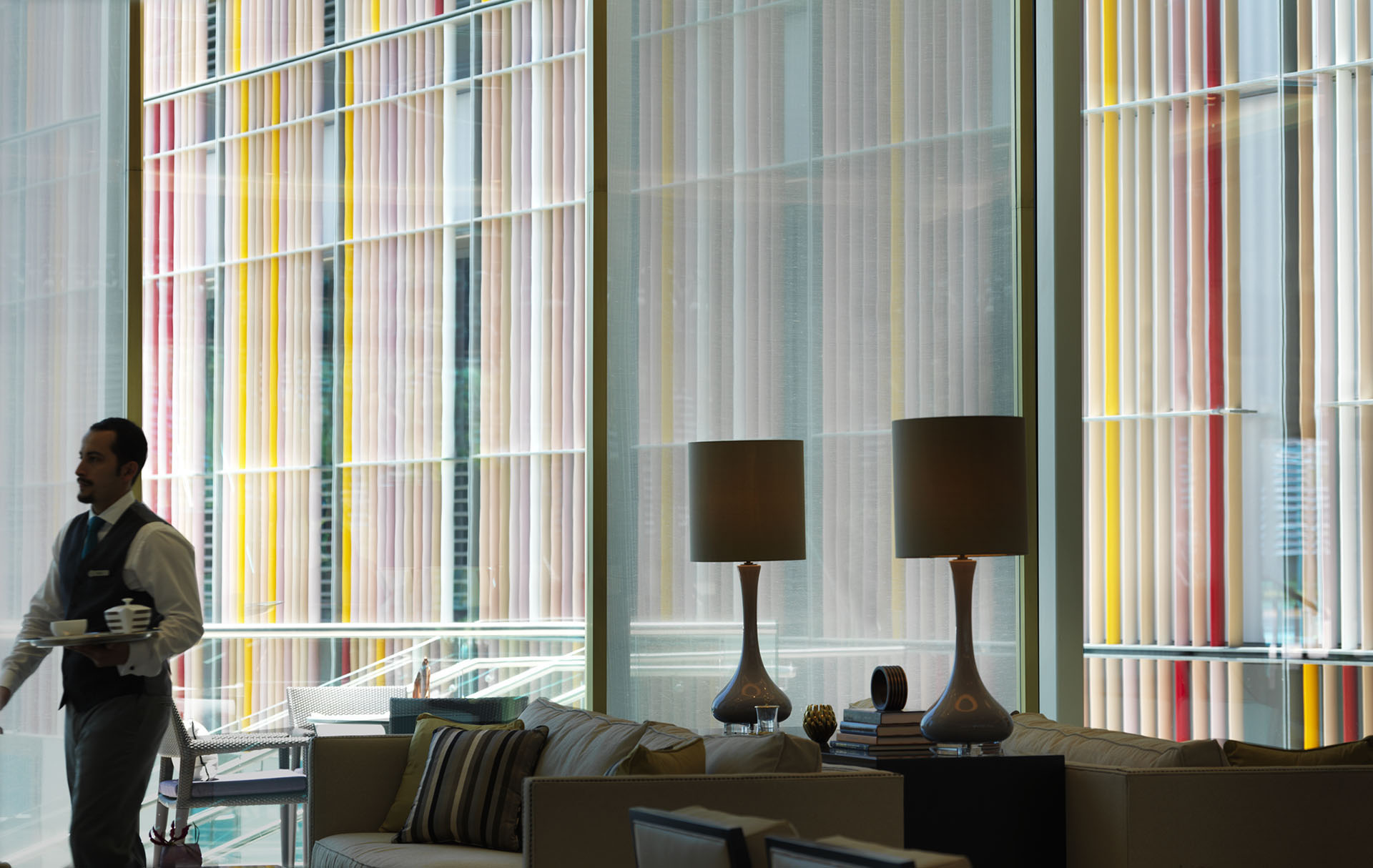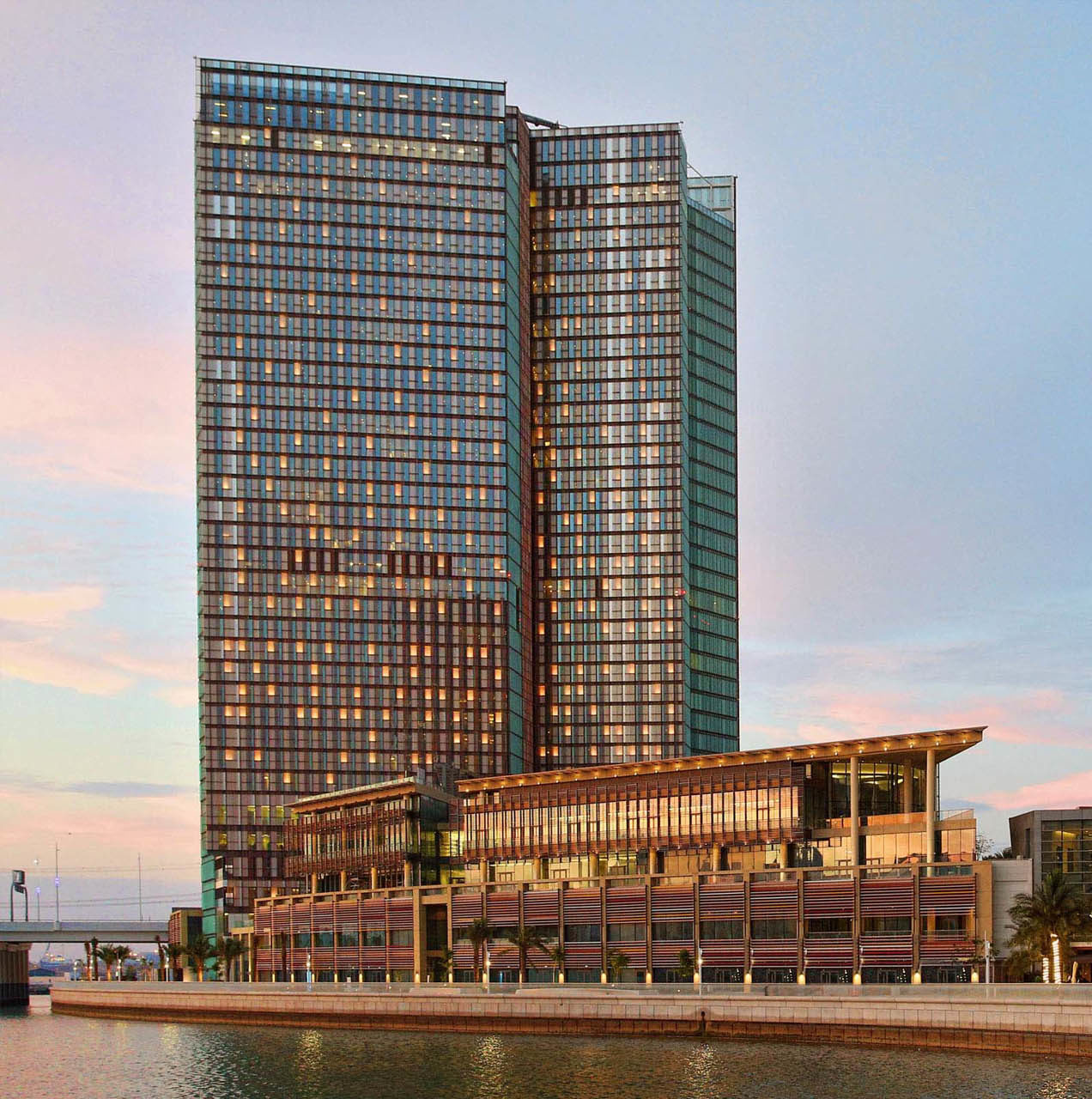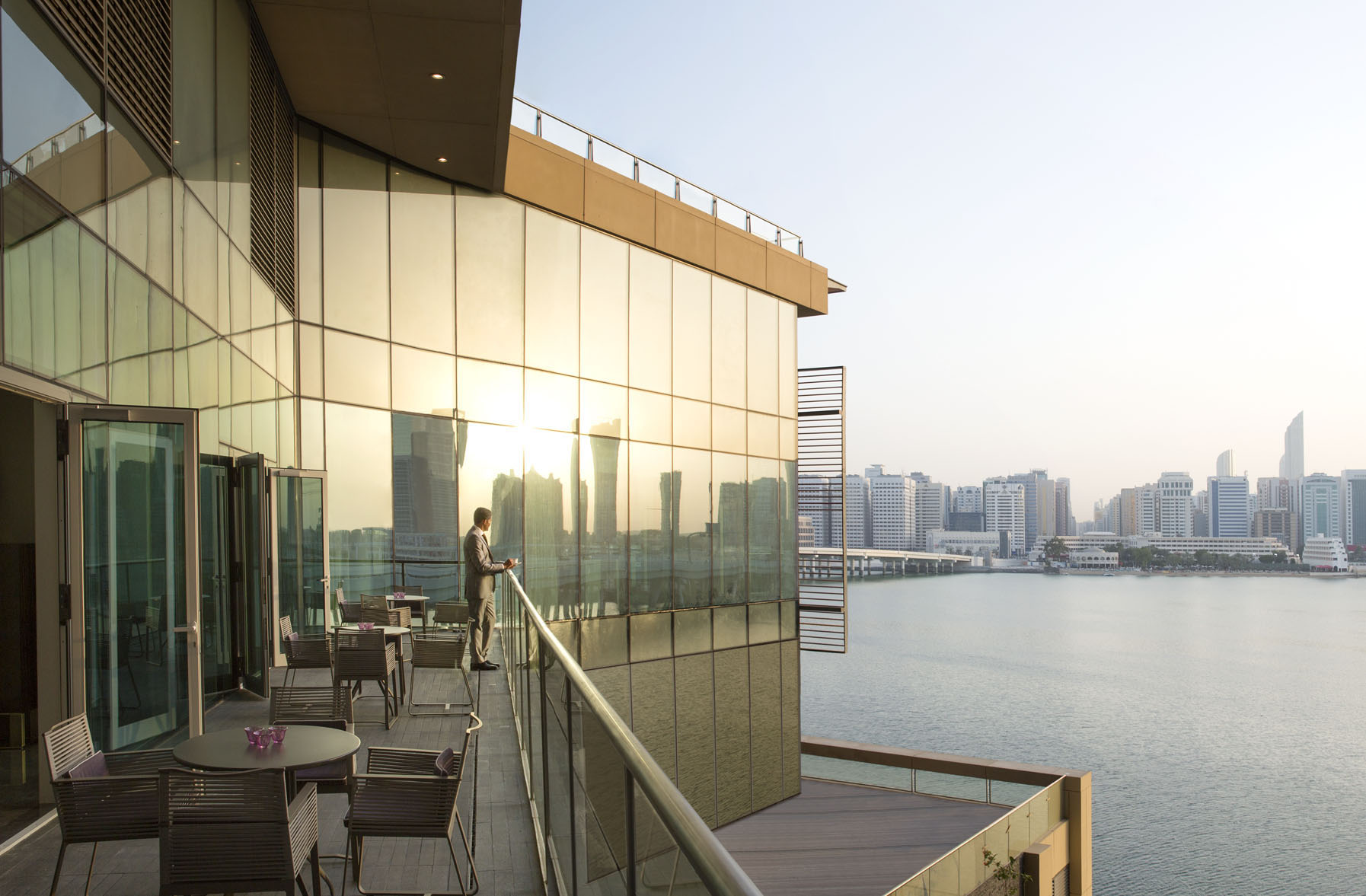 Ground Floor Plan
First Floor Plan
Typical Floor Plan