Krea University
Sri City, India
Krea University
Sri City, India
Krea University
Sri City, India
PLP Architecture has been selected to master plan and design a bold new education campus in India. Krea University is one of India's new private universities focused on liberal arts and sciences and endeavours to reimagine learning to meet the unique challenges and opportunities of the 21st century. Krea's paradigm of Interwoven Learning will be a model for the future of teaching and learning, empowering students with the necessary skills to better take on the world of tomorrow. It has been conceived by some of the best academic minds in the world and is supported by visionary institution builders from across the corporate world.
Krea's new campus will be located in Sri City, to the north of Chennai, in a district that aims to provide an enabling environment and infrastructure for the growth of businesses in a socially and environmentally responsible way. Sustainability plays a central role in the design of Krea's new campus that will be spread over a 200-acre site. Carbon neutrality, 100% renewable energy, water self-sufficiency, zero waste to landfill, and enhanced biodiversity in addition to a human-centred commitment to health and wellbeing will be the guiding principles for the development of the new campus. The campus combines innovative ideas for education with PLP Architecture's distinct new spatial typologies for learning. The University also incorporates the extensive research that the practice and its research collective, PLP Labs, have undertaken into the future of education, campus environments, workplaces and modern living.
Client
Krea University
Facility
Mixed-use university campus
Size
200 ha
Status
Design development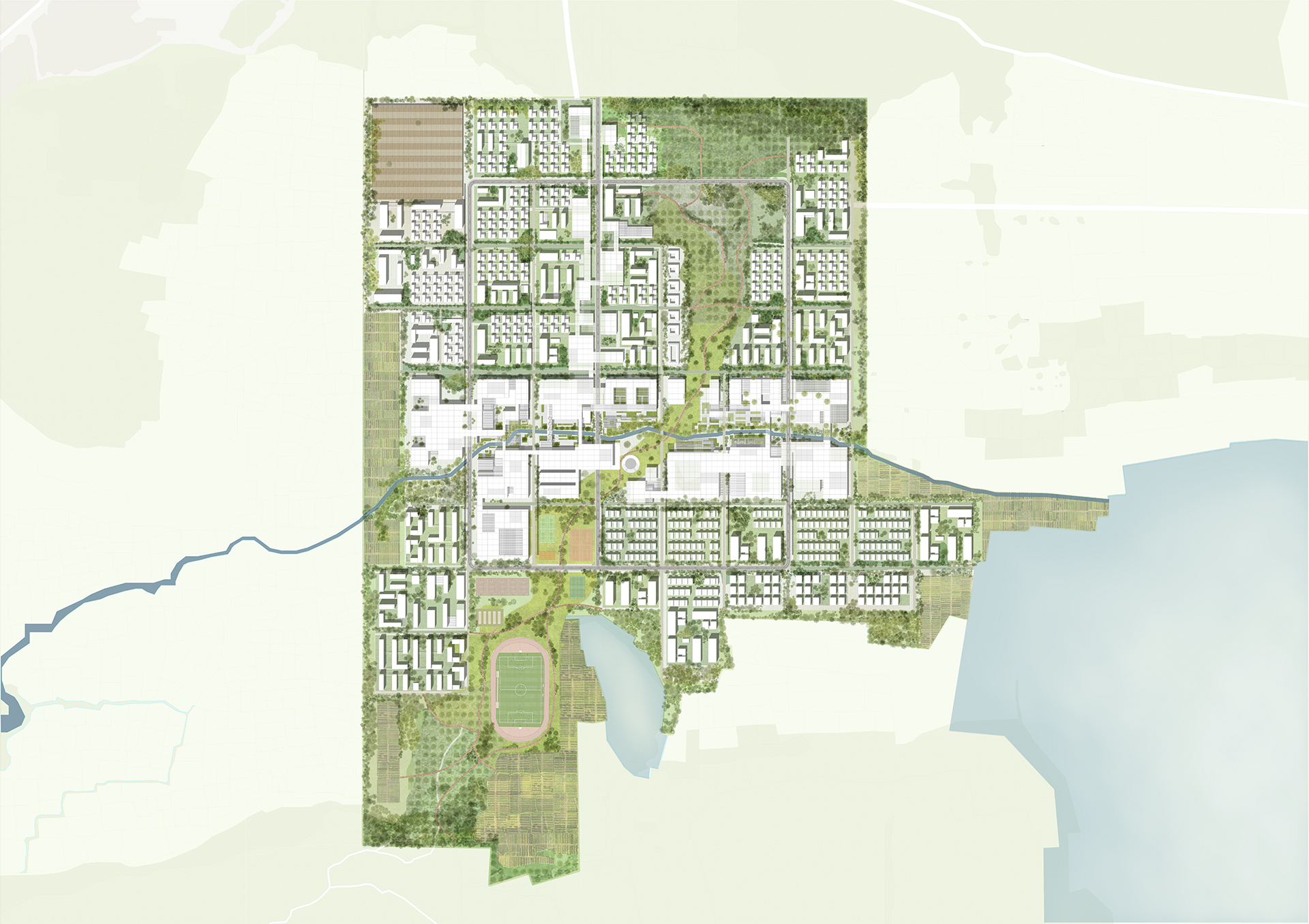 PLP Architecture's design provides a home for this exciting new education ecosystem in a living laboratory that balances humans, machines and the natural environment. Spatial planning includes liveable open spaces that are free from indoor / outdoor barriers, facilitating high levels of interaction and knowledge-sharing between students and faculty across different disciplines. A mixture of formal and informal areas creates a dynamic and flexible environment to ensure inhabitants are able to learn from and be inspired by all aspects of the campus. The landscape surrounding these spaces will promote a well-rounded education of experiential learning, enabling meaningful relationships between it, academic and residential life, and the latest technology. It will also provide students with frequent interactions with the natural environment, outdoor learning and beautiful art. To ensure the campus caters to students and faculty throughout their daily lives, various support facilities are also incorporated throughout the site. Clusters of 3-5 storey housing units will be located throughout, whilst the campus will also boasts a large sports complex and a host of recreational spaces through the landscape.
The university library will become an interface into a new digitally-focussed way of learning and serve as the cornerstone of the university's pedagogic programme, blending traditional learning methods with those specially crafted to accommodate the future of learning. Digital technologies will be used to extend students' learning beyond the classroom. Personalised programmes will offer students the chance to learn new material outside of their chosen curriculum and they will have access to a shared technology hub, with augmented reality studios, simulation spaces and digital maker spaces. To supplement this, the library also aims to be an impressive physical repository of books and to be the best-stocked in India.
When the campus is complete, it will house a student body of 10,000 individuals all selected based on talent and potential. A need-blind admissions process combined with need-aware financial assistance will ensure equal access to the university regardless of wealth, supplemented with an architectural and urban design that encourages growth free from hierarchical societal structures.