Mayfair Park Residences
London, UK
Mayfair Park Residences
London, UK
Mayfair Park Residences
London, UK
Situated just a few steps from Hyde Park, the scheme provided us with opportunity to design an exciting contemporary addition to Mayfair's unique architectural character. Located along a prominent route leading from the heart of Mayfair Conservation Area towards the Royal Parks, the existing buildings form part of an urban block with a dual aspect to both Curzon Street to the south and Stanhope Gate to the north.
The existing building consists of a 1970s office redevelopment built behind retained historical façades of two original Georgian townhouses on Stanhope Gate. The site encapsulates a combination of poor, ruptured frontage of undistinguished architectural quality on Curzon Street with a neglected and compromised heritage asset of Grade II listed masonry facades on Stanhope Gate side.
Much like elsewhere in Mayfair, the tension between modern uses and traditional architecture has been resolved primarily through façade retention, relegating modern architecture to a secondary role. With this project we wanted to challenge this attitude and allow contemporary architecture to play its role in creating a layered, urban idiom that integrates the traditional and the modern without supressing either.
We started by thinking what would it take to restore the site back to its original residential use and to bring back the character of grand urban living? How can we celebrate heritage on one side while delivering a much needed urban redefinition on the other?
Client
The Clivedale Ventures
Facility
Residential Apartments and Private Amenities
Size
9,870sqm GIA
Status
Completed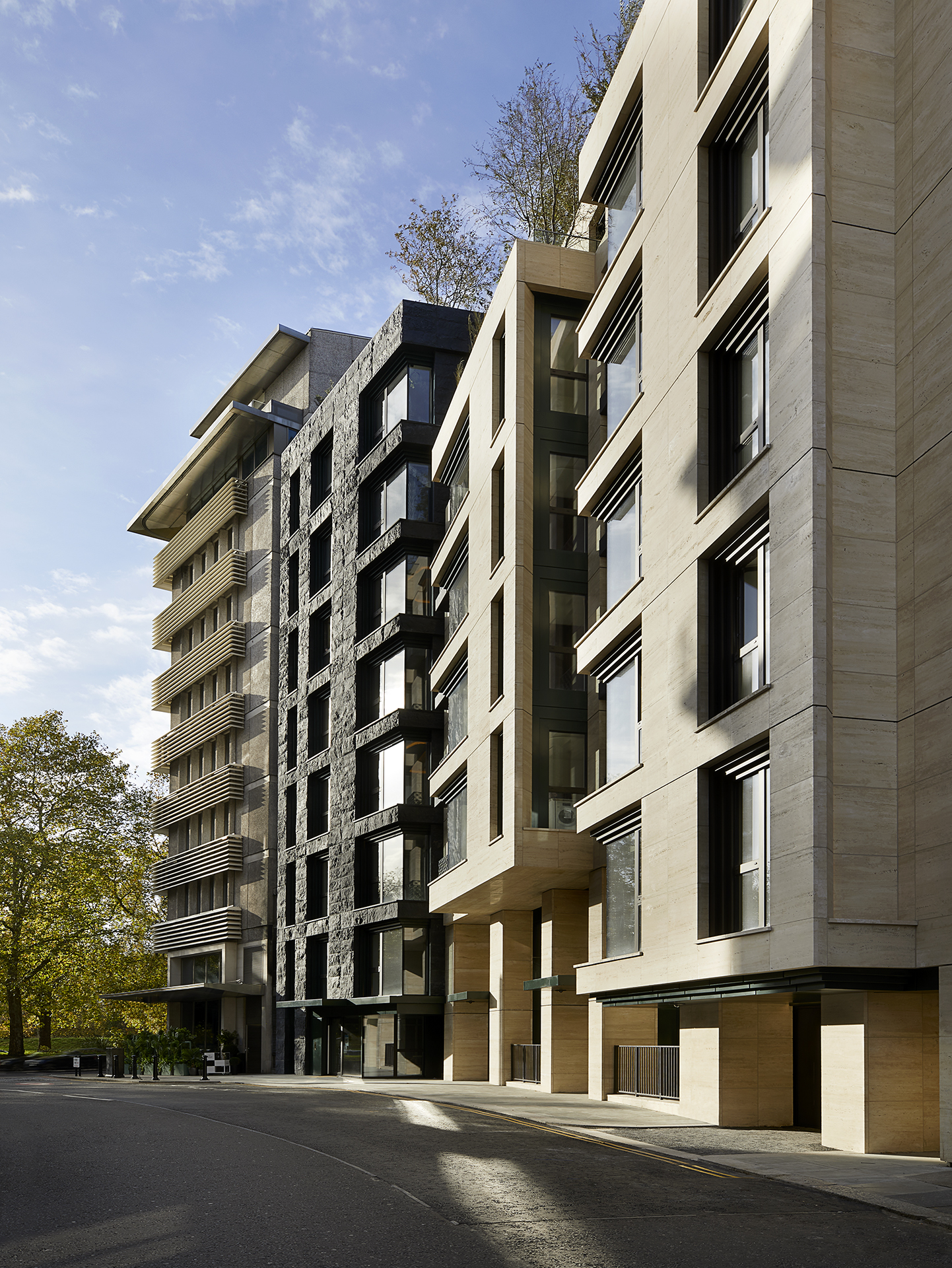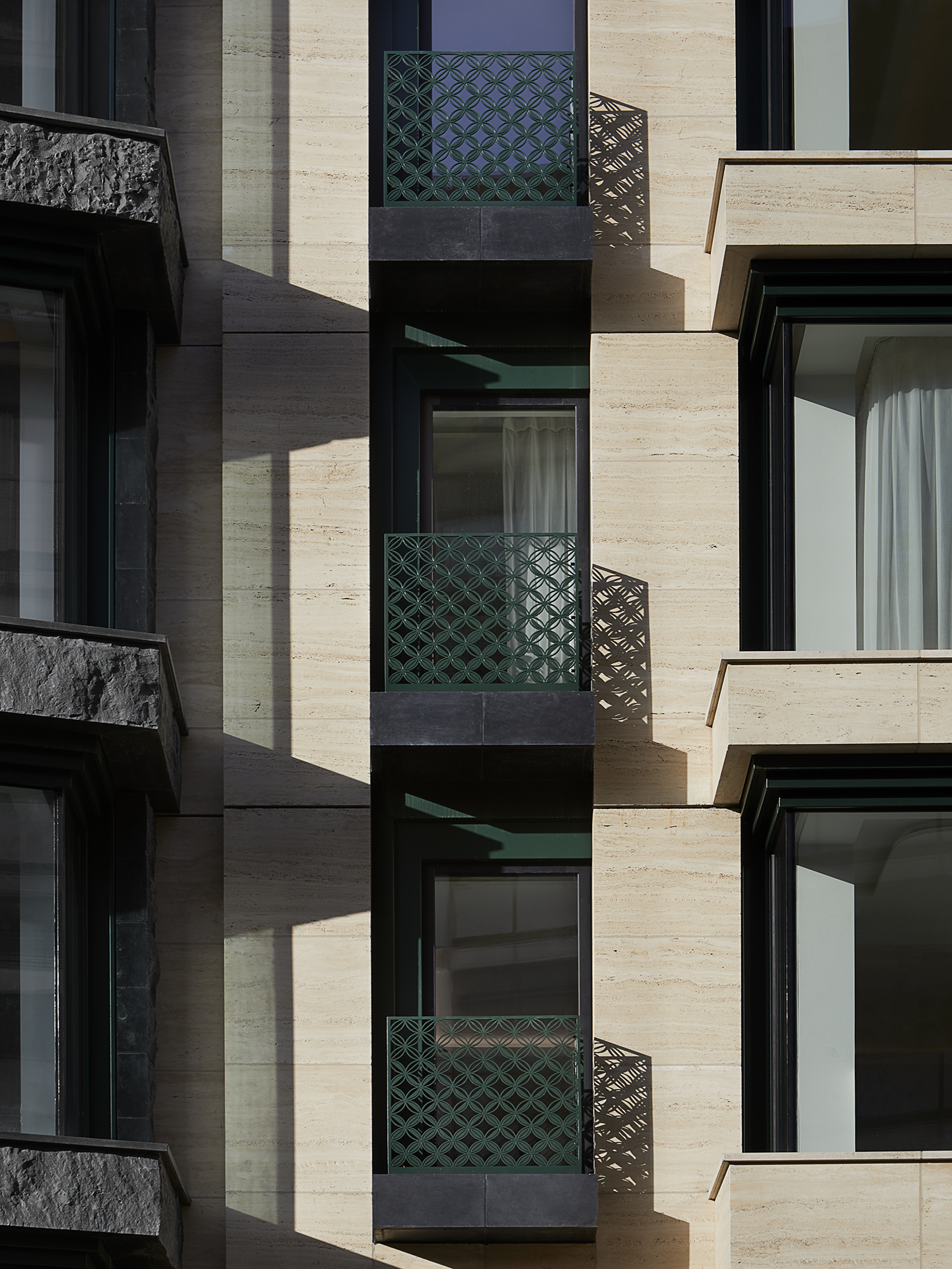 To achieve this we proposed to build on the idea of the duality of the site, marrying contemporary architectural expression of an urban infill with a careful restoration and extension of the historical element in order to give it a greater stature within a coherent street frontage. The architectural and spatial layering across the two frontages, reflecting historical effects rather than forms, defines a coherent overall legibility, a synthesis of old and new.
However we also wanted to take the urban infill a step further than merely tracing a historic building line. We saw the aim of the building as choreographing a series of experiences, almost as a theatrical device, progressively revealing the city around it. We introduced a fissure in the frontage along Curzon Street, allowing interior views towards both Hyde Park and back to Mayfair and Westminster. This staging carries through to the fabric of the building: deep and layered façade reveals corner windows, faceted planes, sculptural indents, recessive metal frames and screens.
The notion of duality becomes a unifying motive inside out. The façade materials include contrasting black and white stones, combined with coloured green and grey metal cladding and details. This theme was carried through in the internal organisation of the building; creating a clear definition between public and private spaces and also primary and secondary entrance into each unit, echoing the historic organisation of grand pre-war apartments. Stepping into the apartment directly from the lifts is an equivalent gesture to entering and stepping into a theatre loggia, a theatre box opening up unexpected views through and out. The spaces are orchestrated to capture the progressive reveal of the city.